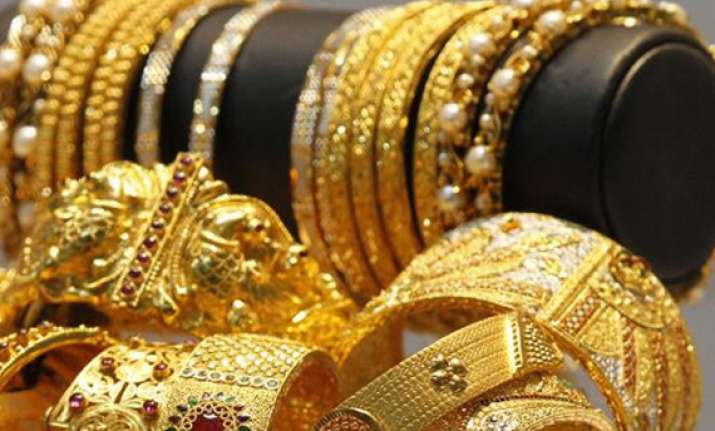 New Delhi, Feb 21: Gold prices on Thursday fell below the Rs 30,000-level for the first time in seven months here due to hectic selling by stockists triggered by a global meltdown.
The precious metal tumbled by Rs 480 to Rs 29,720 per 10 grams, a level last seen on July 21, 2012.
Gold had lost Rs 215 in last two days.
Silver followed suit and dropped by Rs 1,250 to Rs 54,550 per kg, in continuation to a loss of Rs 1,050 in last two sessions, on poor offtake by industrial units and coin makers.
Bullion merchants said selling pressure gathered momentum as gold slumping to the lowest level since July in overseas markets, after minutes from a Federal Reserve meeting showed a debate over the risks and benefits of more stimulus.
In Singapore, gold fell by 0.6 percent to USD 1,555.55 an ounce, the lowest since July 12 and silver by 0.3 percent to USD 28.47 an ounce in Singapore.
In addition, sluggish domestic demand on ending of marriage season and investors selling to pay losses in equity markets, further dampened the sentiment, they said.
A weak signals from futures markets on speculators reducing their exposure to bullion on falling commodities and lower Indian rupee also influenced the trading sentiment.
On the domestic front, gold of 99.9 and 99.5 percent purity tumbled by Rs 480 each to Rs 29,720 and Rs 29,520 per 10 grams, respectively. Sovereigns fell by Rs 150 to Rs 25,150 per piece of eight grams.
Similarly, silver ready plunged by Rs 1,250 to Rs 54,550 per kg and weekly-based delivery by Rs 1,800 to Rs 53,300 per kg. Silver coins also dropped by Rs 1,000 to Rs 78,000 for buying and Rs 79,000 for selling of 100 pieces.