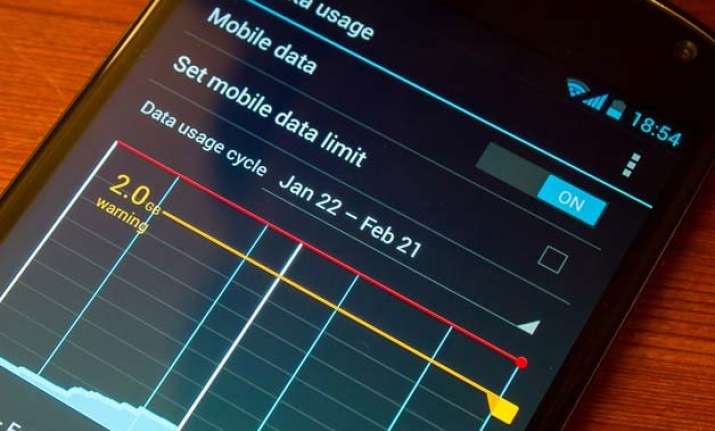 New Delhi: Smartphones today have moved ahead of just being the device to keep in touch with friends and family. We widely use smartphones for internet connectivity, but what causes us trouble are the expensive data plans. Also, sometimes we are surprised to see that our data packs are finished before the due date and we start blaming the telcos.
But do we actually know how to save mobile data so that we get rid of the huge mobile bills? We have pulled together the top 10 tips on how you can minimise your data usage and be connected through internet for long-
1. Schedule app updates over Wi-Fi: When app updates happen over your mobile data, a simple webpage loading also becomes slow. Updating apps on Wi-Fi actually lowers your mobile data usage. On Android you just have to go to general settings and select 'Auto-update apps over Wi-Fi only'. On iOS just turn off the 'Use Mobile Data' and the phone will automatically update on Wi-Fi.
2. Use offline Google maps: Google Maps has this amazing feature to let you save a map area of 120,000 square kilometers on your smartphone. The offline feature is available on both iOS and Android, and has recently rolled out. So this can be really useful if you use maps regularly to get around.
3. Preload instead of streaming: Streaming services like YouTube, Ganna, Vine etc, consume a lot of mobile data. So if there is an album you are constantly listening to at the gym or on the way to work, the best way is save it in your phone and listen to it offline. If your phone doesn't have enough space you can use a microSD adapter. Also, there are some apps offering the option to preload their content and see it offline, e.g. YouTube.
4. Avoid Streaming High-Quality video: Disabling High Quality is the best option for those who still want to listen to music and watch videos over data, but don't want the higher file size. We can also control the quality of videos we are watching to save data. The more the quality the heavier is the file and thus, a heavy amount of data is to be used. Lowering the quality can help us save a lot of data. Also, in iPhone there is an option 'stream high quality music', which when disabled will stream less quality, saving your mobile data.
5. Disable auto-updation of apps: Auto updating your Google Play apps drains a lot of mobile data. If you have the Play Store that is set to auto-update apps, even over a data connection, go to setting and disable it. Also, you can manage individual apps and update them according to your requirement.
6. Always Monitor Your Data Usage: When you are using mobile data you should always monitor which apps are using most of the data. Android devices come with in-built monitoring feature but you can also download apps to help you with this. One of the popular apps that show all your mobile data usage is Onavo Count, which is available on both iOS and Android.
 
7. Manual app update: Both iOS and Android allow you to update your apps automatically, but you can also do it according to your requirements. So the best way to save your mobile data is to turn off this feature and update your apps in the Wi-fi Zone.
8. Avoid internet calling: Internet Calling is getting popular day by day with all the online calling apps – WhatsApp, Hike, Viber and more. But this consumes a lot of mobile data, so switch to phone call to save mobile data.
9. Turn off data while playing free games: When we play offline games there are lot of ads running in between and if the mobile data is left on, it wastes mobile internet. So while playing games disable the mobile data to save data.
10. Turn off data when not in use: If you find that you are nearly out of the limit of your mobile data, you can always turn off your cellular data when not in use.