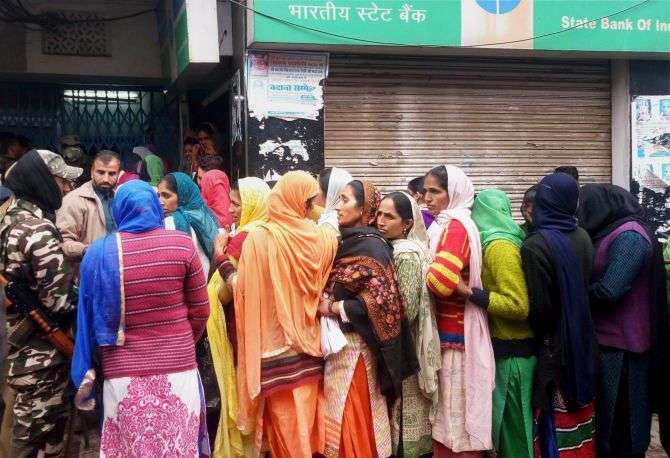 The central government today informed the Parliament that total deposits in Jan Dhan accounts have increased to Rs 64,252.15 crore.
In a written reply, Minister of State for Finance Santosh Kumar Gangwar told the Lok Sabha that Uttar Pradesh leads the chart with Rs 10,670.62 crore deposits followed by West Bengal and Rajasthan. 
The minister also made it clear that no public sector bank had given any instructions to their officials to deposit Re 1 or Rs 2 to avoid zero balance in Jan Dhan accounts.
"As on November 16, 25.58 crore accounts with aggregate deposits of Rs 64,252.15 crore have been opened under Pradhan Mantri Jan Dhan Yojana (PMJDY) across the country," Minister of State for Finance Santosh Kumar Gangwar said in a written reply to the Lok Sabha.
Leading the pack of states, Uttar Pradesh has the highest number of account holders to the tune of 3.79 crore and therefore highest deposits of Rs 10,670.62 crore. It is followed by West Bengal with 2.44 accounts and deposits of Rs 7,826.44 crore.
Rajasthan comes at the third spot with 1.89 crore accounts and the deposit in these accounts totals to Rs 5,345.57 crore while Bihar with 2.62 crore accounts have deposits of Rs 4,912.79 crore as of November 16.
Out of 25.58 crore accounts, 5.98 crore (23.02 per cent) are zero-balance accounts, he said.
"All public sector banks have denied giving any instructions to deposit Re 1 to 2 in the zero balance accounts," he said.
"Banks have been asked to ensure linkage of all PMJDY accounts with Aadhaar number in a time-bound manner. PMJDY envisages channelising all government benefits to the beneficiaries to all accounts opened under the Yojana and thus trying to bring down the zero balance in such accounts by transferring Direct Benefit Transfer (DBT)," he said.
In reply to a separate question, Minister of State for Finance Arjun Ram Meghwal said the currency in circulation as on November 11 is Rs 17.87 lakh crore.
(With PTI inputs)