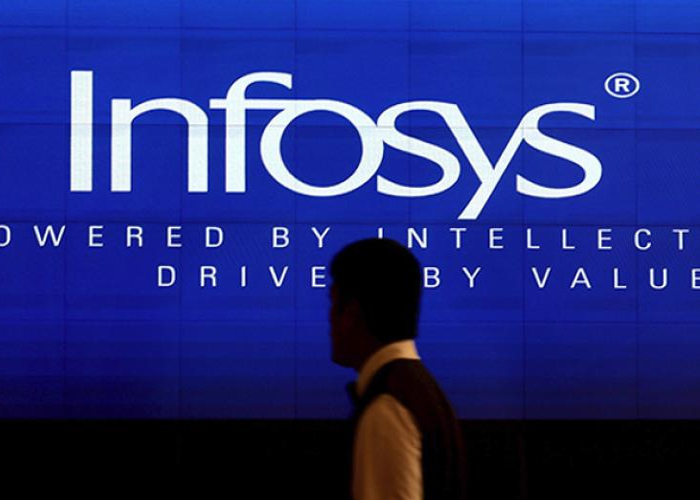 The Infosys Board of Directors will meet on August 19 to consider a proposal for buyback of its equity shares of Rs 5 face value, the global software major said on Thursday.
Shares of Infosys advanced over 3 per cent in early trade on Thursday soon after the company's announcement.
The company's blue chip scrip was trading 3 per cent up at Rs 1,005 around 10.50 am, up from Wednesday's closing price of Rs 976.80 per share. Shares of the country's second-biggest software services exporter opened at Rs 1,010 and touched a high and low of Rs 1,014 and Rs 1,000, respectively, in trade so far.
"The Board of Directors will consider a proposal for buyback of equity shares of the company at its meeting to be held on August 19," said the IT major in a regulatory filing on the BSE. The announcement comes close on the heels of the completion of a Rs 16,000 crore share buyback by rival Tata Consultancy Services (TCS).
The outcome of the Board will be notified to the stock exchanges (BSE and NSE) on the same day.
In view of the Board meeting on the share buyback, the company closed the trading window with immediate effect and will re-open on August 22, said Company Secretary A.G.S. Manikantha in the filing.
The company on April 13 hinted at the buyback during this fiscal (2017-18) up to Rs 13,000 crore.
The company's blue chip scrip opened at the BSE at Rs 1,010 per share on Thursday,
The Infosys buyback comes nearly a month after rival Wipro announced on July 20 to buyback 343.75 equity shares of Rs 2 each for Rs 11,000 crore at Rs 320 per share.
TCS completed buyback of its 5.6 crore equity shares of Re 1 each on May 31 at Rs 2,850 per share, with the attractive offer oversubscribed by 221 per cent or 12.4 crore shares.
The country's fourth largest software services firm HCL Technologies completed buyback of 3.5 crore equity shares of Rs 2 face value at Rs 1,000 per share on June 23.
(With IANS inputs)