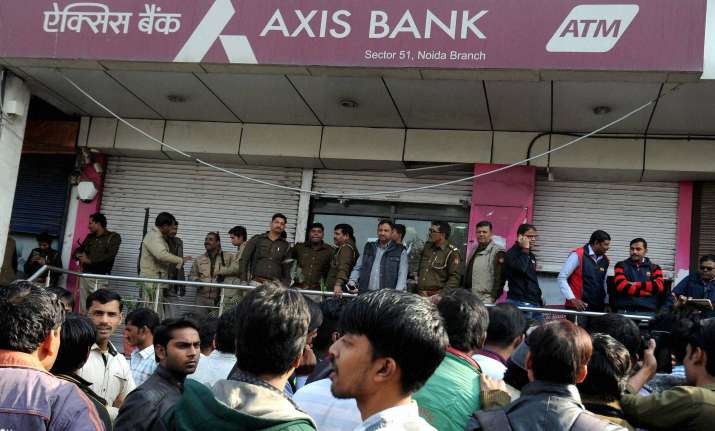 The Axis Bank management has assured the government that it is taking action against erring officials who are involved in irregularities post demonetisation, Finance Minister Arun Jaitley today said.
"The chairperson (CEO Shikha Sharma) of the bank has given details... the bank has identified the officers who the investigative agencies could not catch and... they have sacked the suspected officials. (It) has taken action against its officials," Jaitley said after a pre-budget meeting with bankers where Axis Bank CEO and MD Shikha Sharma was present.  
The minister further said the Enforcement Directorate (ED) and the Central Bureau of Investigation (CBI) are keeping a watch on the activities on bankers, and the top management of banks has been advised to take action against delinquent officials. 
On whether the government would act tough against such bankers involved in illegally changing old currency or diverting new notes, Jaitley replied, "What more tough action the can the government take? There are lakhs of people in banks who are working and many have done a good job." 
He added: "They have sat on Saturdays, Sundays and till mid-night and distributed currency and tackled the crowd. There might have been some officials who have got into misconduct and hence, all the investigative agencies are conducting inquiries." 
Earlier this week, ED arrested two Axis Bank managers here and seized 3 kg gold bars in connection with its money laundering probe in a racket of illegally converting old notes in connivance with banking authorities. 
The agency's probe till now after it registered a criminal complaint under the Prevention of Money Laundering Act (PMLA) on November 30 found that huge money was transferred through RTGS to some shell companies including a case where the director of such a firm was a "petty labourer". 
Sharma had yesterday said that the bank has hired renowned audit firm KPMG to conduct a forensic audit for enhanced due diligence and building more safeguards as she was "embarrassed and upset" over the conduct of a handful of employees bringing the organisation into disrepute.
"The recent media reports around the conduct of a few of our employees have left me embarrassed and upset. We have fallen short of your expectations because a handful of people did not follow our fully compliant and robust processes. We have taken the toughest action against such employees and we will do so in every case of divergence from our Code of Conduct."
The Income Tax Department had last week conducted a raid at an Axis Bank branch in Noida and unearthed Rs 60 crore from the accounts of 20 shell companies.
Sharma said the bank has proactively identified suspicious accounts and has given inputs to regulatory authorities for further investigation.
(With PTI inputs)