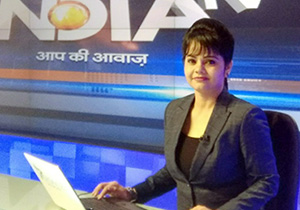 Archana Singh
She worked with ETV as an anchor while nourishing the channel with best of her skills and did top of the priority and many prestigious projects with them, that to free of controversies and any negative speculations.
After that she changed venue from Hyderabad to New Delhi and joined Janmat (Live India). She served the channel till got noticed by India TV.
An ebullient n zealous anchor, she likes to take challenges in life. Till date she has accomplished many prime projects at ease. Controversy free coverage and "passion to give what exactly it is" is her modus operandi for doing so well in her career.
She wants to devote journalistic career for the cause of the people and her mission became easy since she joined India TV.