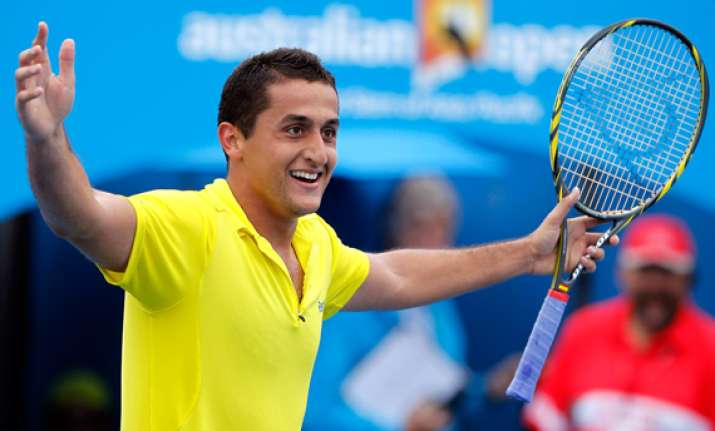 Sao Paulo, Feb 20: Nicolas Almagro of Spain became the most successful player in the history of Brazil Open on Sunday, defeating Filippo Volandri of Italy 6-3, 4-6, 6-4 to capture his third title.

It was his second consecutive victory at the ATP Tour 250 event in Latin America's biggest country. He also won in 2008.
This title took him past Gustavo Kuerten of Brazil, the three-time French Open champion who won his home event in 2002 and 2004.

Almagro broke Volandri late in the third set to clinch victory in just over two hours at Ibirapuera sporting complex in Sao Paulo, winning his 11th ATP tour title, all on clay.

He went to his chair and changed into a shirt with the words "I love Brazil" written on it.

"It was incredible," Almagro said. "It was great to see the stadium packed. We always enjoy the atmosphere here, with the fans pushing us."

The 11th-ranked Almagro played the indoor clay-court tournament on a wild card because Davis Cup duties initially put his participation in doubt.

It was the eighth straight time a Spaniard had made it to the Brazil Open final, with the Spanish player winning six times.

Volandri broke Almagro in the second game of the match, but the Spaniard came back with three breaks to take control of the set despite making only 55 percent of his first serves.

The 26-year-old Almagro continued to play well in the second set but Volandri saved all five break opportunities he faced, then converted one of two chances to extend the match into a third set. Almagro served nine of his 18 aces in the second set.

Almagro didn't allow a single break point to the 69th-ranked Volandri in the final set, breaking the Italian to close out the match. when Volandri missed a forehand on the second match point.

It was the seventh ATP final for the Italian, who was trying to win his third singles title and first since 2006.

Volandri has lost five matches in a row to Almagro, who now is 7-3 against the 30-year-old Italian.

Sao Paulo is hosting the event for the first time after 11 editions in the northeastern city of Costa do Sauipe.
The tournament moved indoors because of the rainy weather in Sao Paulo at this time of the year.