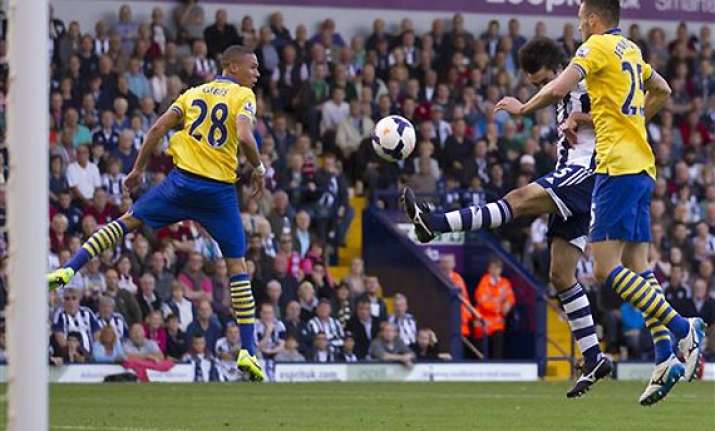 Birmingham, England: West Bromwich Albion ended Arsenal's streak of eight straight away wins in the Premier League by holding the leaders to a 1-1 draw at home on Sunday.
Arsenal couldn't match the fluidity it displayed in its 2-0 dismantling of Napoli in the Champions League midweek, and West Brom took a 1-0 lead into halftime after Claudio Yacob's header in the 42nd.
Arsenal improved in the second half after Tomas Rosicky came on as a substitute, and he helped set up Jack Wilshere for the equalizer in the 63rd as the England midfielder fired in a shot from outside the area.
"He had trouble today to find the rhythm," Gunners manager Arsene Wenger said of Wilshere. "But he has character as well. He doesn't give up, he continues to play his game."
The point was enough to keep Arsenal atop the Premier League table, although it is now level with Liverpool on points and goal difference.
West Brom, coming off a win at Manchester United last weekend, could have extended its lead but Nicolas Anelka missed two good chances for the hosts.
Olivier Giroud then had two chances to secure the win for Arsenal when he was set up first by Mesut Ozil's delightful chip into the area and then by Wilshere's ball over the top, but only managed two poor finishes.