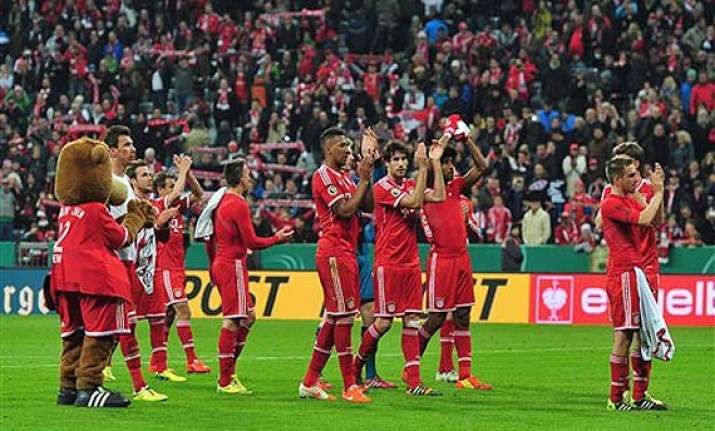 FRANKFURT, Germany : Title holder Bayern Munich cruised to its 20th German Cup final by beating second-division Kaiserslautern 5-1 on Wednesday.
Bayern will seek its 17th title in the May 17 final in Berlin against Borussia Dortmund. Three-time winner Dortmund advanced on Tuesday by beating Wolfsburg 2-0. It will be a repeat of the 2012 final that Dortmund won 5-2. Dortmund won 3-0 in Muinich in the Bundesliga on Saturday.   
Bastian Schweinsteiger opened the scoring in the 24th, Toni Kroos doubled the lead in the 32nd and Thomas Mueller converted a penalty in the 50th for a 3-0 lead before Simon Zoller pulled one back for the visitors on the hour mark.   
Mario Mandzukic scored in the 78th and substitute Mario Goetze completed the victory in injury time. Kaiserslautern, fourth in the second division, played well and sought its chance in attack.   
"We played against in my opinion the best team in the world and we held our ground most of the time," Kaiserslautern's coach Kosta Runjaic said.   
Bayern has been struggling in domestic competition, losing two and drawing one of the three matches since it clinched the Bundesliga title.   
"We downshifted a little bit in the Bundesliga, but it's important to win big games," Kroos said.   
Bayern has reached the semifinals of the Champions League and visits Real Madrid next week. Bayern is on course to retain all three titles it captured last season in an unprecedented sweep for the club.   
Schweinsteiger headed in a free kick cross from Arjen Robben, who also set up Kroos for the second goal. And Robben earned the penalty, after being felled by Kaiserslautern defender Chris Loewe.   
Madzukic was set up by Goetze, and slotted inside the far post. Goetze then waltzed through Kaiserslautern's defense to score after Franck Ribery's backheel pass.   
Bayern's regular goalkeeper Manuel Neuer sat out the match with a calf injury and was replaced by Lukas Raeder.