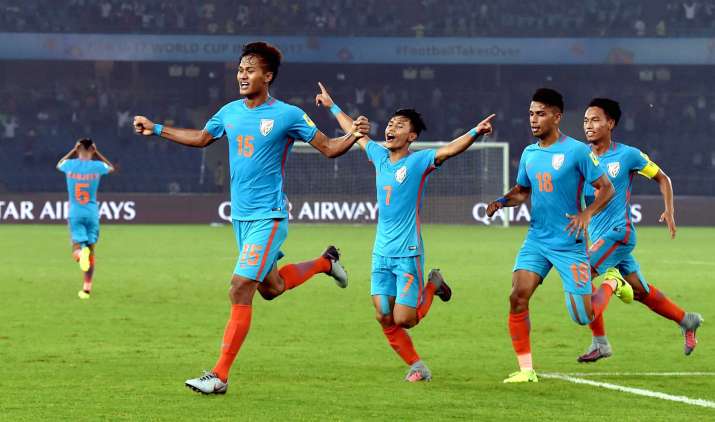 People from Indias's Northeast are known for their love and passion for sports as well as music. Their passion for sports has created wonders and brought laurels to the nation. Adding another feather to the cap, the Indian U-17 team, currently playing the FIFA U-17 World Cup, are headed by a young and enthusiastic sportsperson from the Northeastern state of Manipur.
Amarjit Singh Kiyam, captain of the Indian U-17 team said: "We have been doing video analysis, watching matches and learning defending. Now we are ready for the matches. There is pressure as we are playing in front of 6000 people but at the same time we are enthusiastic and full of spirit. But for me when I see the crowd I get more encouraged and motivated and strong. It was not surprising for me to become the captain because everyone in my team is leaders and everyone has their responsibility. I just motivate them and maintain the team unity."
Amarjit, who comes from a humble background, started his training at the Chandigarh Football Academy (CFA) and in 2012 and helped the CFHA team to make it to the Subroto Cup final.
Kiyam's mother expressed her happiness on his success at an young age and said: "I am very happy today that my prayers for him have been answered. I remembered him wanting to play football so much even when he was very young and even when we called him for dinner, he refused to eat and he kept on practicing himself until he learns the techniques of soccer."
Overcoming all kinds of barriers and obstructions, the young Indian players have made their debut in the FIFA U-17 World Cup after going through rigorous training under Luis Norton de Matos who is the coach of the team.
Apart from Amarjit Singh Kiyam, 16-year-old midfielder Jeakson Singh from Manipur rose above everyone to score India's first World Cup goal against Colombia. Jeakson, with his performance, has managed to carve a niche for himself in Indian Football.
"When he was young, we told him to concentrate on studies and not playing football. But he kept on playing soccer, even forgetting to eat food. Whenever I beat him to take food, he told me that, 'Father, I don't mind skipping food, but not playing playing'. Today, I am very happy that my son scored the first goal of India and words can't be express how happy I and my family are. I am very proud of him," said Jeakson's father.
When asked about India's performance in the FIFA U 17 World Cup, former footballer Irenedy Singh said: "I think if you look at the first match and what they have done in the second day is a very good thing. I think they can learn so much and will get lot of confident; I want them to fight the same way they fought on the second match. They will have consistent and I think third match will be important for us. I want them to continue doing the same."