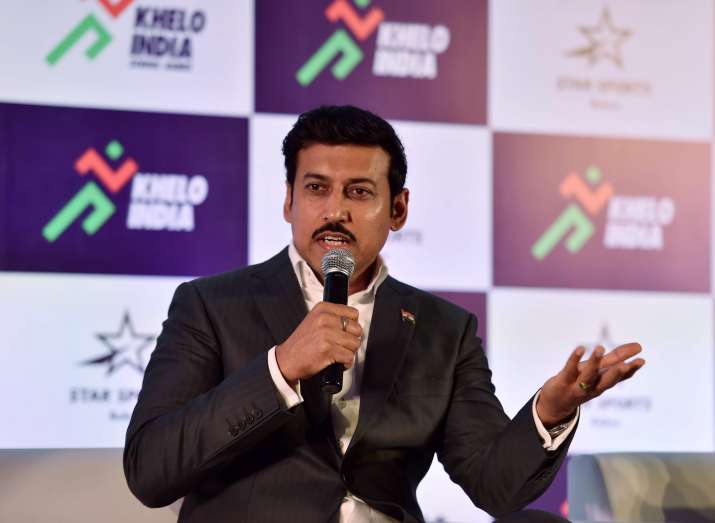 Indians have great potential in sports but it is hampered by lack of opportunities, Union minister Rajyavardhan Singh Rathore spoke today. Rathore, who is Minister of State (Independent Charge) Youth Affairs and Sports, made the remarks while speaking at the Republic Day celebration at the Patiala House Courts premises. He urged people to take up sports.
"Indians have great potential but it does not come up most of the time because of lack of opportunities. Power of positivity is great and we all should take oath to do best in whatever field we are in," he said.
Rathore said that sports ministry's initiative 'Khelo India' was not just about playing but its real purpose was to make better doctors, engineers and lawyers etc.
The ministry's ambitious programme aims to scout for talent at the grassroots and provide it substantial long-term scholarship.
He also highlighted the importance of the sports.
"Sport fields are not just for fun. Its a misconception. Sport teaches the most valuable things of life. We all should keep ourselves fit mentally as well as physically," he said.
New Delhi Municipal Council's vice-chairperson Karan Singh Tanwar, who was also present at the occasion, urged the people to chose the leaders carefully.
"Earlier there were leaders who fought for our freedom without caring anything. Nowadays there are leaders who only care about how to do scams of crores of rupees even if they have to go to jail," he said.
The event was also attended by Delhi High Court Justices Manmohan, I S Mehta, Naveen Chawla and Sangita Dhingra Sehgal and Patiala House Courts' District Judge Poonam A Bamba.