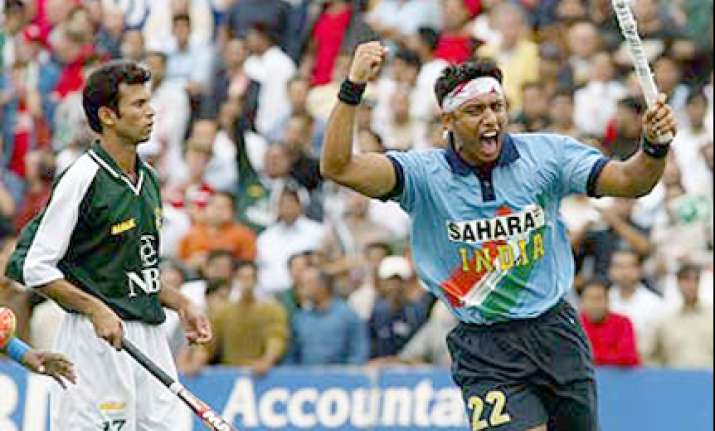 India meet Pakistan on the very first day of 12th World Cup Men's Hockey tournament beginning in Delhi on Sunday. The India v Pakistan match will begin at 2035 hrs IST. The first two pool matches are between South Africa and Spain, and between Australia and England.  
World and Olympic Champions Germany are hot favourites for the World Cup. If it wins, it will be the third consecutive time Germany will be winning the World Cup. Germany has been grouped with Holland, South Korea, New Zealand, Canada and Argentina, while India and Pakistan are grouped with Australia, England, Spain and South Africa.
India and Pakistan will face each other for the first time since 1986. The arch-rivals have  met each other four times in World Cup and the score had been 2-2. India won the 1973 semifinal and had won the World Cup in 1975 in Kuala Lumpur.  
On the other hand, four times World Champion Pakistan won  the 1971 semifinal against India and in 1986 for the play-off for 11th position. But the world hockey scenario has changed a lot since then.  
Team India is a blend of senior and junior players. India has three drag flickers, Sandeep Singh, Diwakar Ram and Dhananjay Mahadik. Sandeep is currently India's best penalty corner conversionist since the days of Jugraj Singh. 10 out of Team India's 18 players will be playing the World Cup for the first time.  
Eight players in the team have World Cup experience, the most experienced being Arjun Halappa who has played 15 World Cup matches so far. Deepak Thakur has played the larget number of international matches (257).
The final will be played on March 13. 
Jose Brasa is Team India's chief coach. He  took over the coaching reins of the Indian hockey team from Asia Cup since May 2009. Brasa has been appointed till the 2010 Asian Games in Guangzhou.
Brasa, accompanied by physical trainer from Spain David Terez, will get a remuneration of $111,415 annually. Terez takes home $79,600.
Brasa is a senior International Hockey Federation (FIH) master coach and led the Spanish women's team to the gold medal at the 1992 Barcelona Olympics.
Do not miss to watch the golden days of Indian Hockey on this rare
VIDEO
Team India : Goalkeepers  
Adrian DeSouza 
P. Srijesh Ravindran 
Defenders
Sandeep Singh
Diwakar Ram
Dhananjay Mahadik
Midfielders  
1.   Bharat Chikara
2.  Gurbaz Singh
3.  Vikram Pillai 
4.   Arjun Halappa
5.   Tushar Khandkar
   Danish Muztaba
Forwards
6.   Shivendra Singh 
7.   Rajpal Singh – Captain
8.   Prabhjot Singh 
9.   Deepak Thakur 
10.  Gurbinder Singh Chandi 
11.  Sarvanjeet Singh 
12.  Sardara Singh