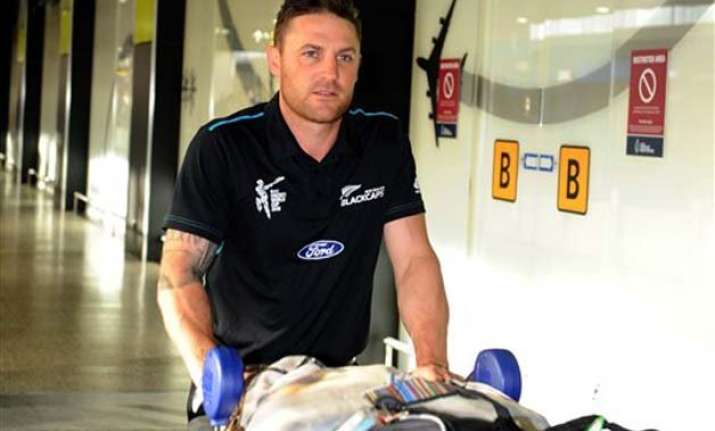 Melbourne, Australia: As Brendon McCullum's lineup approaches the Cricket World Cup final with an appearance of relaxed confidence, urged on by support from home and viewed with admiration around the world, it seems hard to believe that only two years ago the New Zealand team, in fact the whole sport in New Zealand, was thought to be dysfunctional and in decay.
On Jan. 10, 2013 the Cricinfo website offered a panel discussion of the question "Is New Zealand cricket at its lowest point?" That's quite an assertion in considering the many troughs in the history of a national team that took 26 years to win its first test match and still holds the record, of 26, for the lowest score in test cricket.
But at the time the debate seemed valid. New Zealand's recent results had been checkered but even they had been overshadowed by events off the field that left many fans angry and disillusioned.
The firing from the captaincy of Ross Taylor — a popular public figure and, at the time, New Zealand's most reliable batsman — left people questioning the appointment of the man responsible, a little-known figure named Mike Hesson who was cast as the villain in the episode.
Hesson had been a left-field appointment as coach and successor to the Englishman Andy Moles who, in turn, was jemmied from the coaching role by senior players who had lost faith in his methods. It was known that Hesson had been, for a short time, the coach of Kenya before quitting that role over fears for his family's safety.
He was better known in his home province of Otago as a cool and methodical coach with an ability to crunch numbers and to improve the discipline of struggling teams. He was known, to a lesser extent, as a long-time friend of Brendon McCullum, who succeeded Taylor as captain.
New Zealanders, for whom the idea of a fair go in enculturated, regarded the removal of Taylor as a dark episode in the history of national team that, at the best of times, tried the limits of their support.
What actually took place at a meeting in a hotel room in Sri Lanka where Taylor was informed of the decision may never fully be known. Accounts differ.
Hesson said he asked Taylor to remain as test captain but asked him to consider forfeiting the captaincy of the limited-overs team. Taylor took from the meeting the understanding that he was to be replaced in all formats.
Bystanders were drawn into the debate to endorse one version or the other: Shane Bond, the New Zealand bowling coach, believed Taylor's account was accurate.
New Zealanders sided almost unanimously with Taylor and support for cricket plummeted.
Hesson was hurt by the backlash, but he weathered it and set about transforming a team that was then at its lowest ebb.
Two years later and the primary protagonists in those events are all in Melbourne and their standing in the eyes of the New Zealand public could not be higher. Taylor is present as a key member of the middle order; Bond is still bowling coach, shortly to depart to coach in the Indian Premier league.
Hesson and McCullum are now national heroes, recognized as the partnership that put New Zealand on the road to the World Cup final. Hesson, quiet and coolly analytical, and McCullum, brash and perhaps the most attacking captain in world cricket, have achieved a symbiosis.
"It wasn't so long ago that we weren't in a great space in international cricket," McCullum said. "We went through some pretty tough times but ... it allowed us to strip things right back, allowed us to be totally honest with where we sat in the international game and how we were viewed, not just within New Zealand but also externally and that's not just as cricketers but as people as well.
"We were also able to develop or understand that style of play that we wanted to play and which would give us the greatest chance of beating the biggest teams on more regular occasions and also win World Cups."
McCullum said it had been "almost the perfect way back."
"We're all heading in the same direction and that allows us to be pretty instinctive on the field and pretty brave as well because you know you're going to get total buy-in from the guys," he said. "It won't stop at the end of the World Cup."
The New Zealand players are unhesitating in their support of Hesson and McCullum.
"They've done a great job since they were paired up together," fast bowler Tim Southee said. "They're one of the reasons we're sitting here today.
"They've turned the team around and created an environment and a brand of cricket that works for the team."