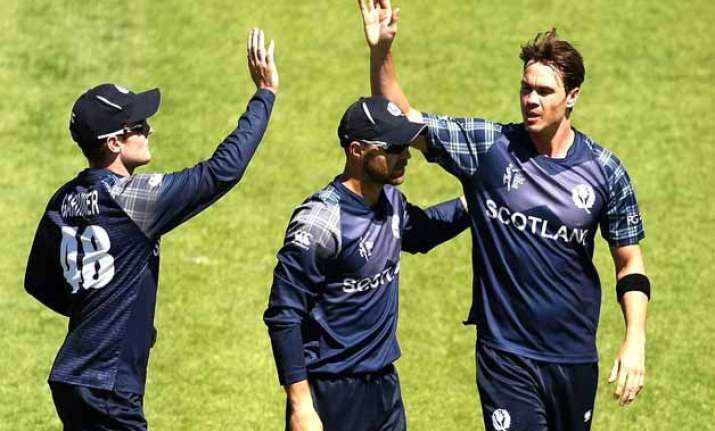 Christchurch, New Zealand: Having suffered humiliating defeats in its opening two World Cup games, England's tournament survival will be on the line when it takes on Scotland on Monday, with the Scots relishing an opportunity to inflict further misery on their southern neighbor.
England's first World Cup meeting against Scotland appeared an easy assignment when the draw was released, but with confidence at rock bottom after thrashings by Australia and New Zealand, this match suddenly looms as a dangerous fixture.
The patriotic fervor will be high when the nations meet on cricket's world stage for the first time. The words of the anthem 'Flower of Scotland' — of defeating the English and sending them "homeward tae think again" — could be an unnerving premonition.
The song will be apposite before Monday's match, though England has been shorn of the hubris the song derides. The English know they simply must win the game to prevent their World Cup campaign descending into farce.
It could hardly face a more determined opponent. The sporting rivalry between England and Scotland, infused with lingering animosity by battles of the distant past, is bitter and long-established. Football matches between the nations date back to 1872 and are acknowledged as the oldest international sporting event in the world, in rugby they compete annually for the Calcutta Cup, dating to 1879.
The cricket rivalry is much more recent. Scotland devolved from England to become an associate member of the International Cricket Council in its own right in 1994. It has met England in three one-day internationals since that schism and never won.
Yet it may never have a better chance to do so than in Monday's match at Hagley Oval. England's confidence has been all but shattered by its 111-run loss to Australia and it's eight-wicket defeat by New Zealand in which it was bowled out for 123, a total New Zealand surpassed in 12.2 overs.
Scotland, in contrast, was emboldened by its start to the tournament against New Zealand. Though it was bowled out for 142, it defended that total tenaciously, claiming seven New Zealand wickets in a narrow defeat.
Taking a simple line through the respective performances against New Zealand, Scotland is in better form and, as coach Grant Bradburn said, "any day's a good day for Scotland to play England."
Scotland captain Preston Mommsen is South African-born and coach Bradburn is a New Zealander and yet each has a deep understanding of the importance of Monday's occasion.
"There's always a huge rivalry between Scotland and England in any sporting event," Mommsen said. "I've been to Murrayfield (in Edinburgh) for a Scotland-England (rugby) clash and the passion that's on display there is pretty awesome and hopefully that'll come out again tomorrow.
"We're up for this game. We've got a very passionate 15 players there who will fight tooth and nail for every run and try and save every run in the field, as well. We'll be fighting for it tomorrow."
England opening batsman Ian Bell spoke for his team on Sunday, taking one onerous duty from beseiged captain Eoin Morgan who is under pressure for his personal lack of form and his hesistant leadership.
Bell said England still has its World Cup destiny in its own hands if it wins the remaining four pool matches.
"It's about how we react tomorrow, isn't it?" Bell said. "We've got to go out and put in a good performance.
"It's really disappointing the fact of what we've done but hopefully the next four games in this group we can put it right and start playing the sort of cricket we know we can."