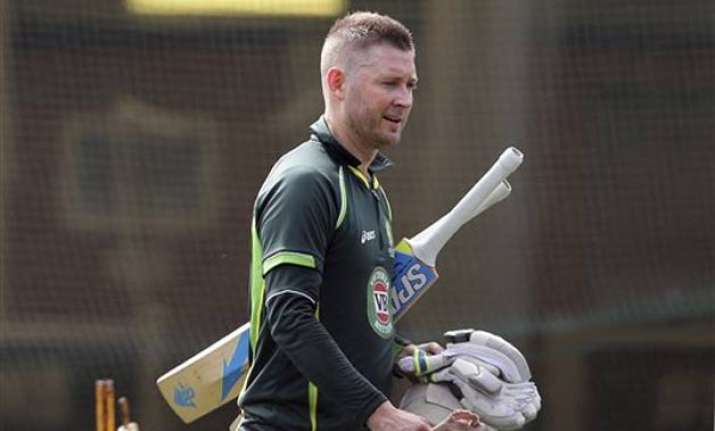 Sydney: Drawing flak for his indifferent form in the World Cup so far, Australian skipper Michael Clarke on Wednesday hit back at his critics, saying that his record in limited overs cricket is as good as anybody who has played the game.
Clarke, who has 7,897 runs from 243 ODIs, has managed to score only 135 runs from four innings in the ongoing World Cup after replacing vice-captain George Bailey, who scored a half-century in the Cup opener.
Asked about whether his inclusion to the side disrupted the balance, Clarke wasn't one bit amused while replying to the query.
"Everybody's entitled to their own opinion. I've played over 200 one-dayers now for Australia, and I think my record stacks up against just about anyone. So, yeah, for me it's about making sure I perform with the bat and also as captain of the team," Clarke said on the eve of his team's semi-final against India.
Asked how big the semi-final will be for him and his team, Clarke said, "I haven't thought too much about it to be honest, not like that anyway. I think I wrote in my column yesterday that it is as big as this event is to every cricketing nation and to the people that support the game.
"As a player, it's no different to any other game. I think you don't do yourself justice if your attitude changes because of the event."
The 33-year-old injury-ravaged batsman, who underwent a hamstring surgery in January, said he has given his all to the game and has left no stone unturned to be an asset for Australia.
"I think every time I've walked out on to the field as an Australian cricketer I've wanted to perform individually and help the team have success and that will be no different in this game. But really, it's no different. I can't try any harder. I can't train any harder. That won't help me have success."
Talking about the pitch, Clarke said it would provide an even contest between bat and ball.
"I think the SCG in general is a really good wicket. I think it's normally even for both batting and bowling. So I think the fast bowlers will hopefully get a little swing and a little bounce out of that wicket," Clarke said.
"Then as always I think spin will play a part at the SCG, but it's generally as good a place to bat as anywhere in the world. India have a very good bowling lineup. They have a good mixture of spin and fast bowling.