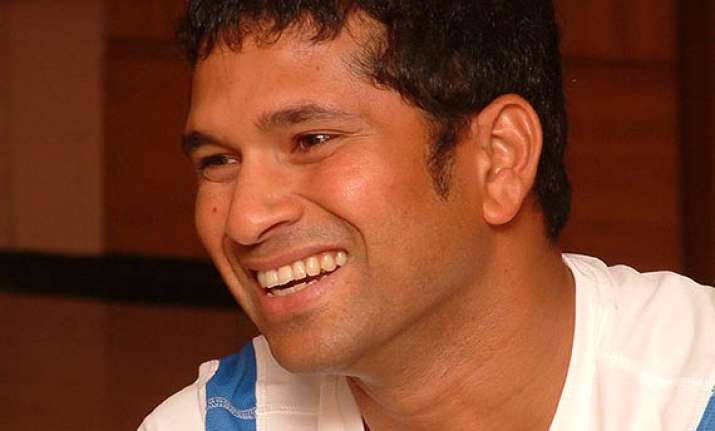 Mumbai:
  One of the greatest batsmen of all time, the iconic Sachin Tendulkar was today voted Cricketer of the Generation as he staved off stiff competition from spin legend Shane Warne and all-rounder par excellence Jacques Kallis at the ESPNcricinfo awards function here.     
The award is meant to honour the most outstanding cricketer between the years 1993 and 2013, and the occasion also marked the 20th anniversary celebrations for the cricketwebsite.
"I am speechless, honestly," said Tendulkar after receiving the award.     
"Thanks to ESPNcricinfo for considering me worthy enough. When Martin (Crowe) and Rahul (Dravid) both spoke about me, Ididn't know how to react."     
Tendulkar has been the most successful batsman of his generation, having set innumerable records in both Tests andODIs.     
He rewrote some of the most coveted batting records, including those for most Test runs and Test hundreds, and for most ODI runs and ODI hundreds. The Mumbaikar is the onlycricketer to score hundred international centuries.     
On Kallis, Tendulkar said, "I first saw him in 1996. He looked an okay player and I thought, this guy could become a decent allrounder. But over a period of time, how he changed his batting technique and worked on his bowling was incredible.     
"Kallis used to walk with his head down and I used to tell my teammates that once he has realised which way the blades of the grass are, he is going to make you pay."
Talking about Warne, he said, "I first played against Warne in 1992 and you could make out he had the talent, but he
wasn't consistent enough in the first game.
"The second time I faced him was in Sri Lanka and I was beaten by his spin. I charged him next ball and was lucky to get away. Warne came up to me and tried to charge me up, but I turned towards square leg and ignored him. Post match, i asked him, 'Warne, what were you trying to say?' From then onwards,
we became good friends."