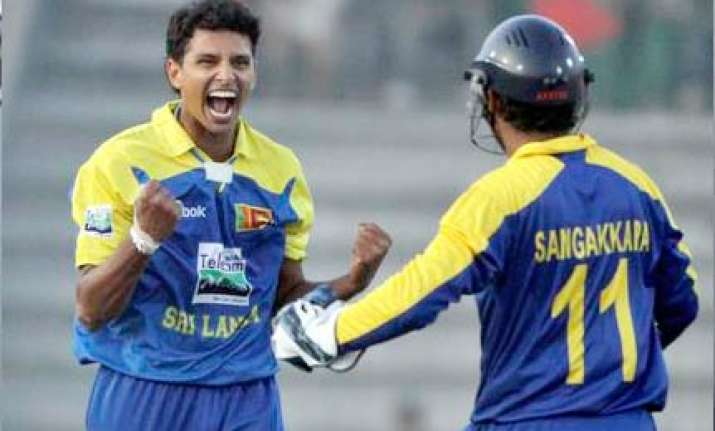 Dambulla: An upset Sri Lanka Cricket on Tuesday initiated an internal inquiry into the deliberate no-ball by off-spinner Suraj Randiv which denied Indian opener Virender Sehwag a hundred in their tri-series match here.  
"Sri Lanka Cricket officials have requested the Sri Lanka National Team Manager Anura Tennekoon to conduct an immediate internal inquiry and forward a comprehensive report in this regard, where action will be taken accordingly," SLC said in a statement.  
"We are perturbed and disconcerted by the news reports which indicate that Virender Sehwag had been deliberately deprived of reaching a century by Suraj Randiv bowling a no ball in the last over.  
"Sri Lanka Cricket, being winners of the 'ICC Spirit of the game' award for two consecutive years, is extremely proud of its team and their achievements and conduct both on and off the field, as such it is necessary to clear the good name of Sri Lanka Cricket and Sri Lanka as a sporting nation, on a priority basis," it added.  
Sehwag was just one short of his 13th ODI hundred when Randiv, who had not bowled a no ball in the Test or ODI series this season, bowled one which was hit by the opener for a six.  
However, it did not count because the no ball amounted to India's winning run leaving Sehwag on an unbeaten 99.  
Randiv's antics were criticised by Sehwag in the post match press conference and to put an end to the furore, SLC Secretary Nishantha Ranatunga called up the Indian team manager Ranjib Biswal and apologised for yesterday's incident.  
"In the morning, Ranatunga called me up personally and apologised on behalf of the Board for the Sehwag incident," Biswal told PTI.  
"He said this was not in the spirit of the game. Nishantha said 'We have a good relationship with India and we apologise for yesterday's incident'," Biswal revealed.  
The Indian manager said Ranatunga asked him to convey the apologies to Sehwag.  
"Since the secretary has called us, we are treating this matter as closed," Biswal said.  
India comprehensively won last night's match by six wickets but the conduct of the Sri Lankan team upset the visitors' camp.  
Sehwag was livid after the game but matter seems to be cooling off after the Indian today revealed that Randiv has apologised for his conduct.  
"Randiv came to my room and apologised," Sehwag wrote on his Twitter page. PTI