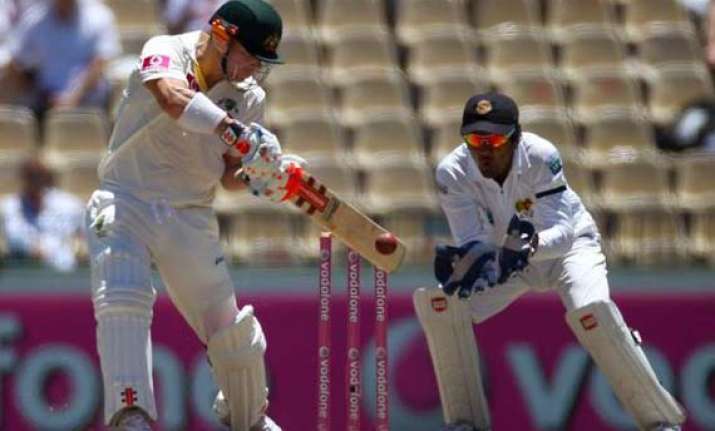 Melbourne, Feb 17: Australian opener David Warner seems to be in doubt for the first cricket Test against India after national selector John Inverarity revealed that there is "some concern" regarding the batsman's recovery from a thumb fracture ahead of the match, starting February 22.
"David's thumb has improved in the last couple of days, he wasn't fit enough to play in this game, he had some throw-downs with a cricket ball, and we're hoping his fitness improves a great deal in the next couple of days so he comes into contention," Inverarity told ABC Radio.
Warner sat out of the ongoing three-day practice match against India A along with skipper Michael Clarke, who is nursing a strained hamstring.
"We won't make a decision on that until a few days out from the Test," Inverarity said.
In case Warner is ruled out, all-rounder Shane Watson could be elevated to the opening slot with Ed Cowan.
Speaking about Clarke's fitness, Inverarity said there were no significant worries on that front.
"There is some concern with David because he hasn't been able to practice, but Michael had an hour's batting in the nets yesterday and he played beautifully, so I'd say there are very few concerns around Michael because of his experience and the fact he was able to practice," he said.
Inverarity also hinted at all-rounder Glenn Maxwell getting a Test debut in Chennai.
"The wicket for the Test match is already prepared. We could've played on it today, we could have played on it yesterday or the day before," Inverarity said.
"There is not one blade of grass, so you'd suggest it is a wicket for spinners. But with our Australian team I think the strength lies more with the pace bowlers than with the spinners.
We've got the option of playing two pace bowlers and two spinners, but it'd more likely that we'd go in with three pace bowlers and one spinner, plus some spin support. I don't think it's clouded. We know what we're going to do.