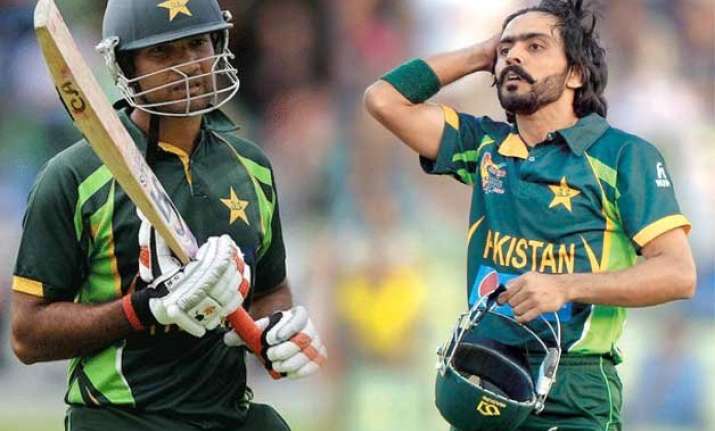 Karachi: Pakistan batsmen Sohaib Maqsood and Fawad Alam are under consideration to be appointed as captain of the national one-day side after the World Cup.
A well-informed source in the Pakistan Cricket Board said that the hierarchy of the board had ruled out a comeback for either Kamran Akmal and Shoaib Malik to the one-day squad.
"In present circumstances the board is looking at two candidates to replace Misbah-ul-Haq as ODI captain and they are Sohaib Maqsood and Fawad Alam," the source confirmed.
Misbah has announced his retirement from one-day cricket after the World Cup as has flamboyant allrounder Shahid Afridi.
The source said the board had promptly issued a press statement of Chairman Shaharyar Khan on Friday appreciating the team's performance in the World Cup only to kill any chances of Misbah or Afridi changing their mind about retiring from ODI cricket.
"That is why in the statement the PCB chief appreciated their contribution to Pakistan cricket and said they would be given a befitting farewell."
In the past Afridi has twice announced his retirement and reversed his decision.
The source said the board's hierarchy was clear that it was now time to move on and they were also chances that the decision to appoint Afridi as T20 captain until the next World Cup might also be reversed.
"The idea is to go for a fresh captain and while Shaharyar is in favour of Fawad there is also a strong lobby for Sohaib Maqsood. Although he struggled in the World Cup but the feeling is that he is calm like Misbah and educated and added responsibility will bring out the best in him," the source disclosed.
Asked if they were chances of discarded allrounder Shoaib Malik coming into consideration to lead the ODI squad he said at present neither Malik nor Kamran were in the board's equation or future planning.
"The board is even contemplating having a straight talk with Younis Khan and requesting him to retire from one-day internationals."
The source also confirmed that the board would be appointing a vice captain for all three formats.
"Sohaib was to be appointed vice-captain to Misbah for the one-day series in UAE but because of the issues related to Afridi pushing for the captaincy and Younis Khan's selection the board differed the matter to after the World Cup," the source said.