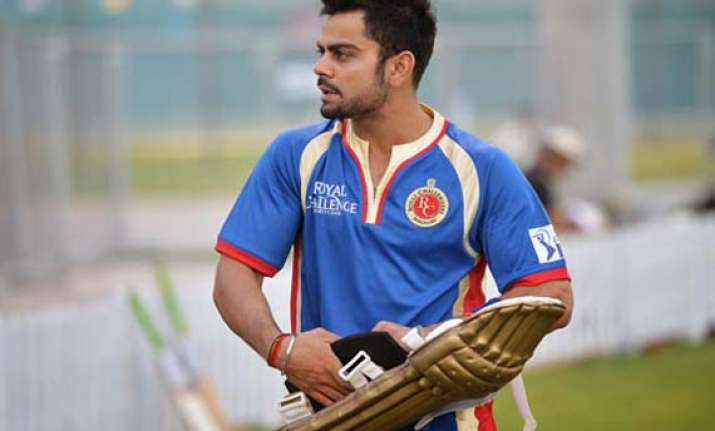 Bangalore: Returning home after three consecutive losses in the UAE, Royal Challengers Bangalore (RCB) hope to get back to winning ways in the Indian Premier League (IPL-7) T-20 series with the support of their frenzied fans.
"It feels great to be back home, especially for me, Chris (Gayle) and AB (de Villiers) who played some great cricket in this ground in front of home crowd," Royal Challengers Bangalore (RCB) captain Virat Kholi told reporters ahead of its league tie Sunday against Sunrisers Hyderabad at the Chinnasway stadium here.
After winning the first two league ties against Delhi Daredevils April 17 at Abu Dhabi and Mumbai Indians April 19 at Dubai, RCB lost to Kolkata Knight Riders April 24 at Sharjah, Rajasthan Royals April 26 at Abu Dhabi and Kings XI Punjab April 28 at Dubai.
In the second leg of the tournament, RCB will play five games at home against Sunrisers Sunday, Punjab May 9, Rajasthan May 11, Delhi May 13 and Chennai May 24 and four away games in between with other teams.
Admitting that the narrow loss (by 2 runs) to Kolkata hurt the team the most, Kohli said they did not deserve to win the other two games (against Punjab and Rajasthan) as they did not play good cricket.
"It is good we lost. It is like a wakeup call to rectify our mistakes. We know our strengths and weaknesses. Two losses and three wins would have been good so that we could analyse where we stand and get only stronger from here on," Kohli said.
Noting that it was very important for him to keep calm in this kind of a tournament, the aggressive skipper said the team was taking the second leg as a fresh start rather than panicking, which would make it difficult to bounce back.
"It is a fresh start for us all over again even if we had won five games out of five in the UAE. Besides getting back to winning ways, it is the (four) away games we are focusing on more than how many we play here," Kohli noted.
Asserting that the team's focus would be on away games, Kohli said though they did well on home turf in the last tournament (IPL-6), they could not qualify for the semi-final as they failed to win away games.
"It is the away games we are focusing on more than how many to play here. We are quite familiar with what we need to do in Bangalore but last year our drawback was we didn't win away games and we couldn't qualify after," Kohli pointed out.
Observing that losing hurts anyone, including him as a player and captain, Kohli said it should not annoy because that would divert the team away from what it had to do on the field and stay focused.
"It is the job of the coach and the captain primarily to keep the team together. If you show panic from the top post, then the guys will obviously get scared and not play as a unit. I have gone through it before. The best way out of this is to stay as relaxed as possible and focus on holding on to the momentum," Kohli added.
Exuding confidence of playing to their potential, Kohli said every team member was relaxed and eager to play the kind of cricket that was known to the fans.