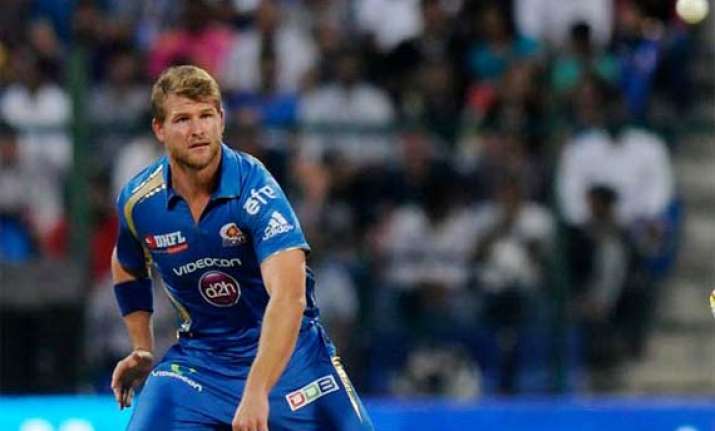 Mumbai: With Mumbai Indians getting back to winning ways with two back-to-back victories at home after five straight losses in the UAE, all-rounder Corey Anderson feels the defending Indian Premier League champions have soaked up the early pressure and are on track again.
"I guess there was lot more pressure being champions as well last year to come out and I guess dominate again. We are on track at the moment and if we can keep it going and get to the play-offs and then take it from there, then we will be doing well," Anderson told reporters at the 'Kingfisher Premium Bowl-out' event here today.
"I guess the main thing is you don't panic. We have won two now and (teams on) the table are actually not that far apart. Anyone is sort of biding for that third or fourth spot at the moment. It is still a long way to go. There are a lot of smart heads in the changing room. When they tell you not to panic then it makes you pretty humble because they have been there, done that," he added.
MI has a big support staff that includes Sachin Tendulkar (icon), Anil Kumble (mentor), Jonty Rhodes (fielding coach) and John Wright (head coach).
The New Zealand cricketer feels the pitches at the team's home fortress - Wankhede Stadium - are similar to those in his country and the five losses in UAE have made the team stronger.
"To be fair, the Mumbai pitch is pretty similar to a New Zealand wicket. It is all part of it. Learning and going through losses makes the team stronger as well and you have got to evaluate where you are," the 23-year old said.
Recently Kiwi commentator Simon Doull had said that Anderson was feeling the pressure due to his big price at the auction.
Reacting to the comment, the youngster said, "I guess everyone does. It is part of it. I think as cricketers we always want to perform as well, regardless of what we are getting paid. It is about, I guess, personal pride and trying to do as well as you can, every time you go out there."
The Christchurch-born player hasn't fired big in the tournament, notching up just 114 runs in seven games, and is eager to contribute more.
"It is T20. It is the way it sometimes goes. Hit one for six and then you get out. The more you think about it, the deeper you feel sort of digging. So, obviously I would like to have done better than what I have. Hopefully at some stage   I will be trying to win games for Mumbai."
Anderson holds the record for the fastest century in one-dayers and said his strength was in belting the ball.
"I guess that (hitting big) is my strength. It is obviously to have boundaries and if I can do that, I am doing my job. If I can contribute to wins then I am doing my jobs as well."
The left-handed batsman said he is enjoying his first
IPL
.
"It is madness. It is my first IPL and I am loving it at the moment. It is nice to be back and winning games as well. I have seen the love for Mumbai from the Mumbai fans and it is awesome to see," he said.
He played down the incident between teammate Kieron Pollard and Royal Challengers Bangalore's pacer Mitchell Starc, who nearly came to blows last night.
"He (Pollard) seems alright. The match officials dealt with it in the way they have and we are just looking forward to our next game."
Anderson also praised big hitter Australian compatriot and Kings XI Punjab recruit Glenn Maxwell, who is the top run scorer so far with 435 runs and said he's a revelation.
"He has been a revelation, I guess. He seems to get 80 or 90 every game off just 30 balls. He is a massive part of that Punjab side and all credit to him, he is doing unbelievably well," he said.