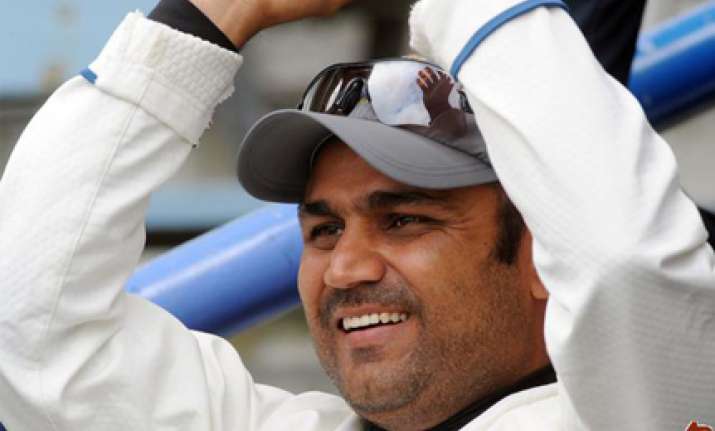 Dashing India opener Virender Sehwag has exuded high confidence that he would be fully fit for the seven-match one-day international series at home against Australia, commencing in Baroda on October 25.
"I am not yet fit for international cricket as can't throw (the ball) from the boundary line. But I would be fully fit for the series against Australia," said Sehwag in Mumbai  in the presence of the BCCI chief selector Krishnamachari Srikkanth.
Sehwag also said that he would play in the Champions League Twenty20 tournament for the Delhi Daredevils after leading the Rest of India side against Ranji Trophy champion Mumbai in the five-day Irani Cup tie, beginning on October 1 in Nagpur.
"I will play in the Champions League and in the Irani Cup match. There I'm captaining the side and would be fielding in the slips or other close-in positions," he said on sideline of a promotional event.
The flamboyant batsman, who would turn 31-years-old on October 20, has not played international cricket since he suffered a shoulder injury during the second edition of Indian Premier League in May.
Sehwag, who has two Test triple centuries, missed India's short visit to the West Indies, the triangular ODI series in Sri Lanka and also the ongoing ICC Champions Trophy in South Africa.
Sehwag reiterated he had never said he was not interested in leading the country, but only indicated that he was not keen to be vice-captain as a younger player should be groomed to take over the reign from Mahendra Singh Dhoni in future.
"I never said I did not want India captaincy. I only said in that interview I did not want to be the vice captain as I want someone younger to be groomed for the job," he said.
On relinquishing the captaincy in IPL, Sehwag said, "For two years we did not qualify for the finals. It seems my luck is not there. I don't know where I would go after this year (as there's going to be a second grand auction for all players after the 2010 edition). That's why I refused captaincy.
He praised his Delhi and India teammate Gautam Gambhir by saying the left handed opener was "a good cricketer with good brain."
"For youngsters it offers good opportunity to play in front of TV audience and big crowds. Performing well in the Champions League or IPL counts. It's a good platform for the youngsters," he said. PTI