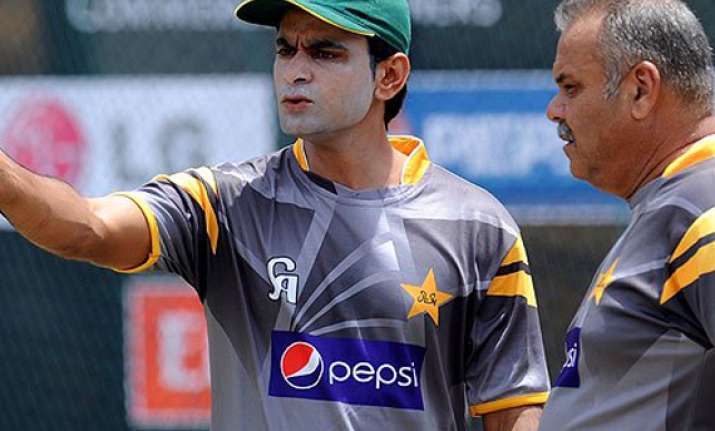 Ahmedabad, Dec 27: Pakistan skipper Mohammed Hafeez today said the way his side clawed its way back in the first Twenty20 match against India, he has no doubts that his side will go on to win the series by winning the second match, here tomorrow.
Pakistan thumped India by five wickets in the Bangalore T20 match.
"The way we played the last match, our morale is quite high. The way the entire team bounced back in both batting and bowling, that was morale boosting for us and we will try to continue that tomorrow as well," Hafeez told reporters.  
"We have the opportunity to win the series. We are all ready for this. Not just tomorrow's match, we are positive about the entire series. We are united (as a team) in this series and we want to play good cricket," he added.  Hafeez emphasised that bowling is their strength since the attack has a lot of variety.
"I will give credit to the bowlers and fielders. They (India) were 70 for no loss and after that we came back.  Bowling has always been our strength and in the last match even after a bad start, the comeback was outstanding. As a captain I am very pleased with that," he said.  
"Most of our players have proved at the international level that they are match winners. Shahid Afridi, Saeed Ajmal, Umar Gul, recently included Mohammad Irfan. Shoaib Malik is the only one who hasn't bowled but he is good enough to play his role in any format with his spin bowling. We always believe that as a bowling unit, we can always come back. We have got enough experience. We can dominate with our bowling."