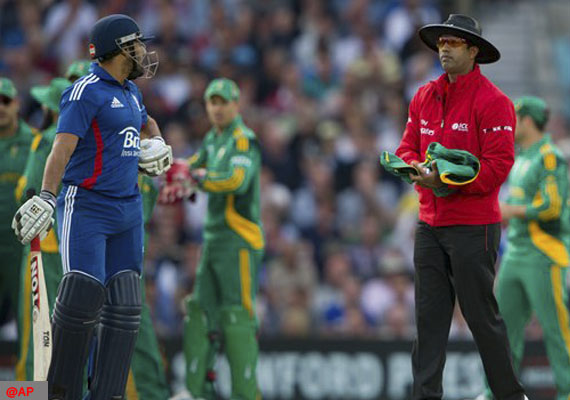 Colombo, Sep 15: Umpire Kumar Dharmasena won the David Shepherd Trophy for first time after being named ICC Umpire of the Year at the ICC Awards here Saturday.
Dharmasena, 41, received the award following voting by the 10 Test full-member captains as well as the seven-man Elite Panel of ICC match referees. The Sri Lankan was judged on his decision statistics and officiating skills during the past 12 months.
Dharmasena, accepting his award from Graham Gooch, said: "This award means a lot to me after playing cricket for 12 years. It's for the Sri Lankan umpires and the community who looked after my growth. I feel I had a great year on-and-off the field and I feel having been a cricketer has helped me with my decision making as an umpire and to give better decisions.
"This is one of the best awards I could have got as an individual as I only joined the Elite Panel a year ago, it's a really honour."
The Sri Lankan faced strong competition from Billy Bowden, Rodney Tucker, Richard Kettleborough, five-time winner Simon Taufel and three-time winner Aleem Dar.
Dharmasena, who made his international debut as an umpire in 2009, joined the Emirates Elite Panel in May 2011. In the voting period he stood in seven Tests and 13 ODIs.
Prior to umpiring, Dharmasena represented Sri Lanka in 31 Test matches and 141 ODIs and was part of Sri Lanka's 1996 ICC World Cup winning side.