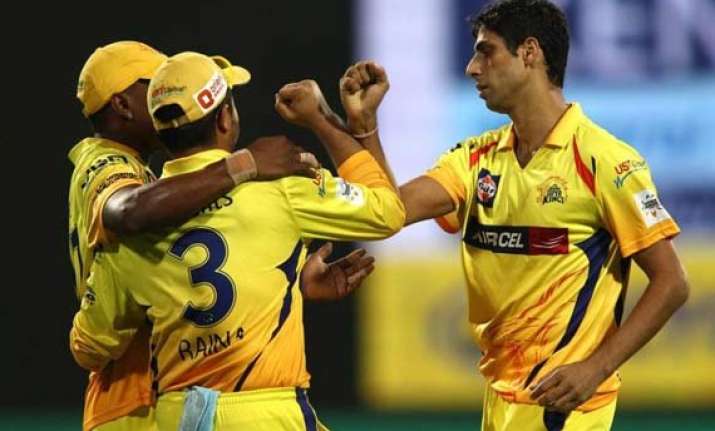 Hyderabad: Scoreboard after Chennai Super Kings defeated Kings XI Punjab by 65 runs in the second semifinal of 2014 CLT20 played at Rajiv Gandhi International Stadium, Uppal, Hyderabad on Thursday.
Chennai bowlers wreaked havoc to dismiss Punjab for 117 in 18.2 overs after Dwayne Bravo hammered 67 balls off 39 balls and took his team to an imposing 182.
Mohit Sharma (2/14), Ashish Nehra (2/9), Pawan Negi (2/28) and Suresh Raina (2/10) did the damage as Punjab's batting came a cropper.
It became a one-side affair when Punjab collapsed to 61 for seven in the 11th over, needing an improbable 122 runs off the last 54 balls.
2010 Champions Chennai now face reigning IPL champions Kolkata Knight Riders in the final on Saturday.
Chennai Super Kings innings
| | | |
| --- | --- | --- |
|  Dwayne Smith               |  b Awana |  14 |
|  Brendon McCullum |  c Awana b Perera |  6        |
|  Suresh Raina |  c Bailey b Awana |  6            |
|  Faf du Plessis |  b Patel |  46                 |
|  Dwayne Bravo                  |  c Maxwell b Patel |  67                      |
|  Pawan Negi |  b Awana |  8 |
|  MS Dhoni |  c Karanveer b Awana |  0 |
|  Ravindra Jadeja |  not out |  27* |
|  Ravichandran Ashwin |  not out |  2* |
|  Extras |  (lb 1, w 5) |  6 |
|  Overs                                  |  innings break |  20 |
|  Total                              |  for 7 wickets |  182 |
|  Fall of wickets | 1-23 (Smith, 3.2 ov), 2-29 (McCullum, 4.2 ov), 3-41 (Raina, 5.6 ov), 4-106 (du Plessis, 13.4 ov), 5-141 (Negi, 16.1 ov), 6-141 (Dhoni, 16.2 ov), 7-160 (Bravo, 18.3 0v) |   |
Did not bat: Ashish Nehra, Mohit Sharma
Bowling
| | | | | |
| --- | --- | --- | --- | --- |
|  Bowler |  Overs |  Maidens |  Runs |  Wickets |
|  Anureet Singh |  4 |  0 |  44 |  0 |
|  Parvinder Awana |  4 |  0 |  30 |  4 |
|  Thisara Perera |  4 |  0 |  41 |  1 |
|  Karanveer Singh |  4 |  0 |  36 |  0 |
|  Akshar Patel |  4 |  0 |  30 |  2 |
Kings XI Punjab innings
| | | |
| --- | --- | --- |
|  Virender Sehwag |  c McCullum b Sharma |  0 |
|  Manan Vohra |  c du Plessis b Sharma |  16 |
|  Wriddhiman Saha |  b Nehra |  6 |
|  Glenn Maxwell |  c Dhoni b Nehra |  0           |
|  David Miller |  b Ashwin |  22 |
|  George Bailey |  c McCullum b Negi |  6 |
|  Thisara Perera |  c Bravo b Negi |  0 |
|  Akshar Patel |  b Raina |  31 |
|  Karanveer Singh |  not out |  17* |
|  Parvinder Awana |  c du Plessis b Raina |  0 |
|  Anureet Singh |  c Raina b Jadeja |  16 |
|  Extras |  (w 1, lb 2) |  3                |
|  Overs                                     |  match over |  18.2 |
|  Total                          |  all out |  117       |
|  Fall of wickets |  1-3 (Sehwag, 1.4 ov), 2-24 (Saha, 4.2 ov), 3-24 (Maxwell, 4.6 ov), 4-24 (Vohra, 5.3 ov), 5-34 (Bailey, 7.1 ov), 6-34 (Perera, 7.3 ov), 7-61 (Miller, 10.2 ov), 8-90 (Patel, 14.2 ov), 9-90 (Awana, 14.4 ov), 10-117 (Anureet, 18.2 ov) |                           |
Bowling
| | | | | |
| --- | --- | --- | --- | --- |
|  Bowler |  Overs |  Maidens |  Runs |  Wickets |
|  Ashish Nehra |  3 |  0 |  9 |  2 |
|  Mohit Sharma |  3             |  0 |  14         |  2 |
|  Ravichandran Ashwin |  4 |  0 |  33 |  1 |
|  Pawan Negi |  4 |  0 |  28 |  2 |
|  Ravindra Jadeja |  1.2 |  0 |  9 |  1 |
|  Suresh Raina |  2 |  0 |  10 |  2 |
|  Dwayne Bravo |  1 |  0 |  12 |  0 |
Result: Chennai Super Kings won by 65 runs and qualified for the final
Man of the Match: Dwayne Bravo
Toss: Kings XI Punjab chose to field