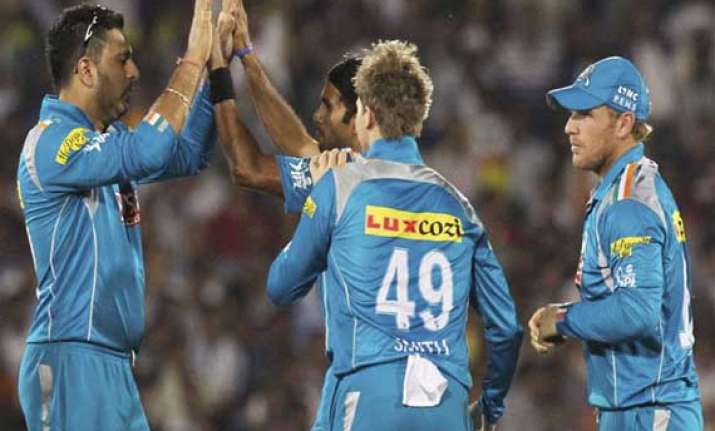 Mumbai: BCCI has terminated the the contract of IPL team Pune Warriors after it failed to pay the full franchise fee for the current year and guarantee money for the next season. it is reliably learnt.
The decision was taken at the Cricket Board's all-powerful working committee meeting here, a top BCCI source told.
The Pune Warriors have been on collision course with the BCCI after the Board encashed its bank guarantee due to non-payment of franchise fee.    
The Sahara group announced its pull-out from the IPL after that even though that is yet to be formally conveyed to the BCCI, which in turn wanted the team to furnish a bank guarantee of Rs 170.2 crore to remain a part of the league next year.    
The BCCI, after reportedly reminding Sahara about the payment several time, has now terminated it from the IPL.    
IPL governing council members were also present in today's meeting where the Board issued a 30-day termination notice to Pune Warriors.    
Sahara has been demanding the completion of the arbitration proceedings on the issue of franchise fee, which, it feels, should be lowered since the BCCI did not deliver on its promised number of IPL matches for the team.
The franchise fee has been a bone of contention. In 2010, Sahara had bid Rs.1,700 crore for the new franchise for a period of 10 years. The bid was made, according to its statement, on the basis of revenue that could be generated from 94 matches per season that had been originally envisaged.
This was reduced to 64 matches that year, following which Pune Warriors and the short-lived Kochi franchise asked BCCI to reduce the bid price proportionately to make it a more viable proposition for them.
Discussions ended in a stalemate, following which Sahara announced its withdrawal from the league in 2012. The two parties then agreed to arrive at a solution and started an arbitration process towards this end. However, the question of the franchise fee remained unresolved.
This is not the first time that BCCI has encashed bank guarantees after franchises failed to cough up fees. Kochi Tuskers Kerala and Deccan Chargers were disbanded after they failed to pay the required fees.