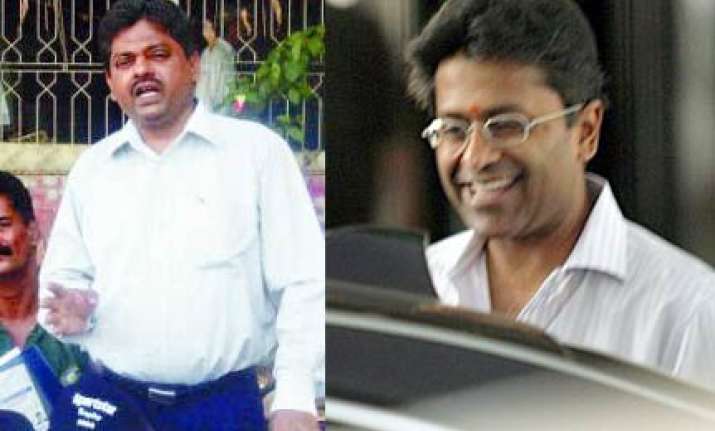 New Delhi, Oct 21: After turning down Lalit Modi's plea of reconstituting the disciplinary panel, the BCCI on Thursday refuted reports that it had reached an "understanding" with the suspended IPL Commissioner in the ongoing probe into charges of financial irregularities against him.
Reports in the media, quoting Modi's counsel Mohd Abdi, stated that probe panel member Arun Jaitley and another of Modi's lawyers Ram Jethmalani met last night to work out an understanding.
The BCCI said while the two did meet, no peace formula was on the agenda.
"Mr Arun Jaitley and Mr Ram Jethmalani met yesterday night for some other matter not connected to the BCCI. The statement made by Mr Mohd Abdi, General Counsel and Constituted Attorney of Mr L K Modi, regarding some understanding being reached is totally false and BCCI denies the same, " BCCI's Chief Administrative Officer Prof R S Shetty said in a statement issued on Thursday.
Yesterday, BCCI had turned down the Modi's plea saying that the probe was in an "advanced stage".
"It is a fact-finding and an internal committee. We cannot have external members in it, " BCCI's counsel and senior advocate C S Sundaram told a Supreme Court Bench, comprising Justices J M Panchal and Gyan Sudha Mishra, which wanted the Board to explore the possibility of reconstituting the disciplinary committee.
The Bench put out the question when Modi's Jethmalani repeatedly argued that there was a reasonable apprehension that the suspended IPL chief will not get a fair deal before the present committee which was biased against him.
Jethmalani said the people who had participated in the decision to issue showcause notices to Modi should not be a part of the disciplinary committee.
"I want people with a clean slate, " he submitted and contended that the Chirayu Amin, who was involved in the decision to issue showcause notices and later replaced Modi as the IPL Commissioner, cannot be a member of the disciplinary committee.
Modi has approached the apex court challenging the July 15 judgement of the Bombay High Court which dismissed his plea to stay the proceedings by a BCCI-appointed disciplinary committee probing allegations of financial irregularities against him.
He has sought the removal of Arun Jaitley and Amin from the three-member committee, which also has Jyotiraditya Scindia in it, contending that they are likely to be biased against him.