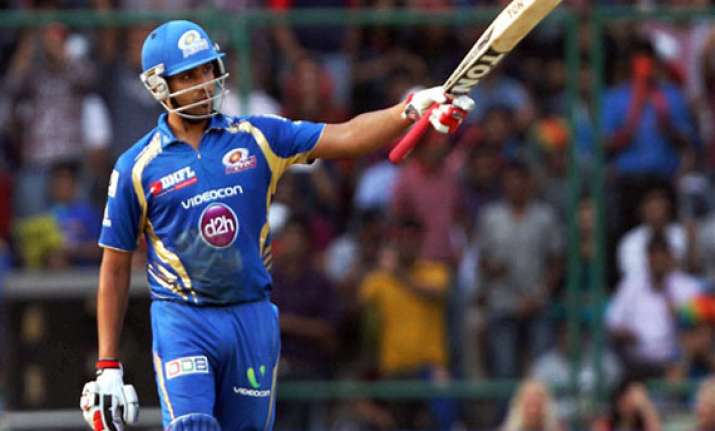 Mohali:  Mumbai Indians skipper Rohit Sharma has said anything is possible as far as his team's chances of qualifying for the IPL playoffs are concerned.
After a seven-wicket win over Kings XI Punjab on Monday night, Rohit Sharma said at the post-match presentation ceremony: "Anything is possible. The important aspect is, we go back to Bombay, and we hope we put up the performance that is expected of us in familiar territory".
Kings XI Punjab was on top of the table but suffered a humiliating defeat after Lendl Simmons struck a ton off 61 balls to get the Man of the Match award.
About the mathematical chance of earning a playoffs berth, Rohit Sharma said he was keeping his "fingers crossed" .
He said, Mumbai Indians was  always capable of putting up a dominant show.
"I have always said that we are a capable side. It's just that we didn't do well in our first five games in the UAE."
Man of the Match Simmons  said: "It was a very good moment to me, was very excited when I got the call for Mumbai."
About his best shot,  Simmons said, "I like playing my slog sweep, so I enjoyed that one."
Kings XI Punjab captain George Bailey said Mohali had a good pitch to chase a total. "It did get a little quicker in the second half of the game."
Bailey scored 39 and helped recover from a middle-order collapse. This was Mumbai Indians' fifth win in 12 matches while Kings XI Punjab have nine wins from 12 games.