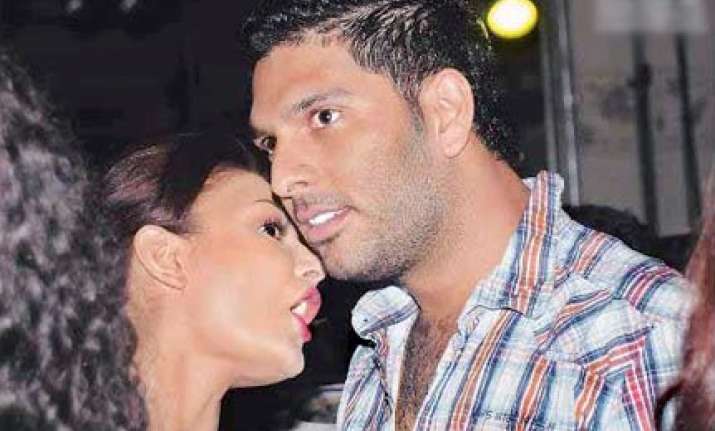 Team India's hottest player Yuvraj Singh has hit back at  media reports saying that model Aanchal Kumar is his latest girlfriend.  
Yuvi says Aanchal is a "friend only". " I've known her ( Aanchal) since 6th grade. During the IPL, the franchise owners host parties and as players we need to attend... To be linked up to Aanchal Kumar is ridiculous!!" writes Yuvraj in his Twitter account.
The Yuvi- Aanchal saga made headlines after reports — with pictures — stated that he " was spotted with his current squeeze" at the IPL bash in Bangalore.
Yuvi went on to introduce Aanchal, as per reports, as his ' girlfriend' to a lensman.
But, the cricketer added that he was " really disappointed to see my pictures splashed across the newspapers." Aanchal too has slammed the reports, stating that she shares a special relationship with Yuvi but it is not romantic.
" I don't want such gossip to linger since I'm not looking for cheap publicity," Aanchal said. She added that she talked to Yuvi about the gossip and laughed it off.
But as it took a serious turn, they felt it can't be taken lightly.
Aanchal is best known for her guest appearance with Abhishek Bachchan in the title number of Bluffmaster . Besides winning the Gladrags Mega Model title, Aanchal has also done a few music videos, including Jagjit Singh's Aaina . Link- ups and affairs are nothing new for Yuvi. After his break- up with actress Kim Sharma, Yuvraj has been constantly linked to a number of movie actresses, including current glam sensation Deepika Padukone.
Last year, Yuvraj had created a buzz when he was linked with south Indian actress Jennifer Kotwal. It was reported that Yuvraj met Jennifer at a sports bar before leaving an overseas tournament and struck a ' friendship' with her.
Recently, Yuvraj was also linked up with Raima Sen after the two attended a fashion week bash. And during last year's IPL, speculations were rife about Yuvi and Kings XI Punjab co- owner Preity Zinta, fuelled by her on- field hugs to him.
And earlier this year, Yuvi was linked with Viveik Oberoi's ex- girlfriend Grace, a professional surfing trainer from South Africa.
The buzz is that Yuvi has already introduced Grace to his mother besides going on a vacation with her in Goa. Meanwhile, Yuvraj is happy about his team's ( Kings XI Punjab) surprise win over Chennai Super Kings in the ongoing Indian Premier League. He writes on his Twitter account: "( I) am happy to b back on form... Morale is high amongst d team ( sic)."