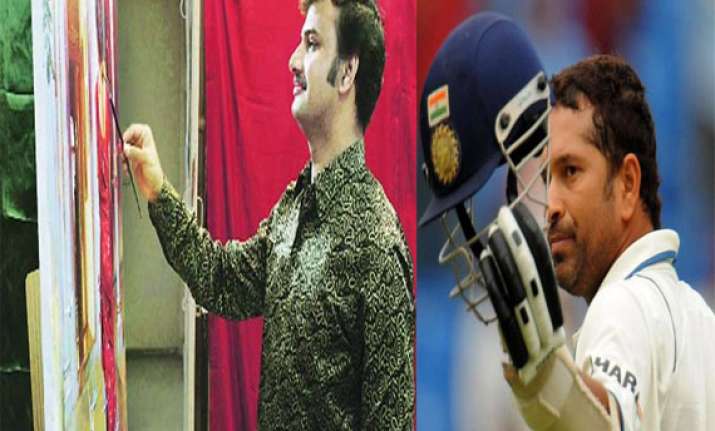 Mumbai: Nashik-based artist Prafull Sawant has been contacted to paint what little master Sachin tendulkar wants…… a famous landmark of Maharashtra.
Prafull was having a normal Monday evening until a friend called to ask if he could send a few of his works to the Mumbai Cricket Association (MCA) office by the following morning.
Sawant soon came to know about the full story. It was  Sachin Tendulkar who told the MCA that all he wanted as a farewell gift was a painting, and the association's new president Sharad Pawar had picked Sawant for the job.
It was a moment that Sawant — although an acclaimed painter who has won 45 awards across India and 17 citations abroad — had never imagined could be his.
Sachin has been clearheaded in specifying what he wants in the painting. It cannot be a portrait, it would have to be a famous landmark of Maharashtra.
"I have submitted 10 options. They are basically famous places of Maharashtra. Tendulkar was born in this state and nurtured by this environment. I know he belongs to the whole of India, but this is the place where it all started. So the painting may be something on the waarkaris (pilgrims) and Indian culture," Sawant said.
Options submitted are of the Kumbh Mela at the Godavari, and the CST station from various angles, including a blurry night-time view. Options from outside Mumbai include Goda Ghat and Nana Fadnavis Wada.
"The painting will give him a Maharashtra feeling. He represents a different field altogether, and it will be a challenge for me. Somehow I have never painted Tendulkar's portrait but at least my picture will be with him as a memento. I never thought I would get such an opportunity. It is a turning point in my life," Sawant said.
The 33-year-old painter, who studied at Mumbai's JJ School of Art, said Pawar has encouraged him for long. The veteran politician's daughter Supriya Sule, now the Lok Sabha member from Baramati, once bought one of Sawant's paintings as a gift.