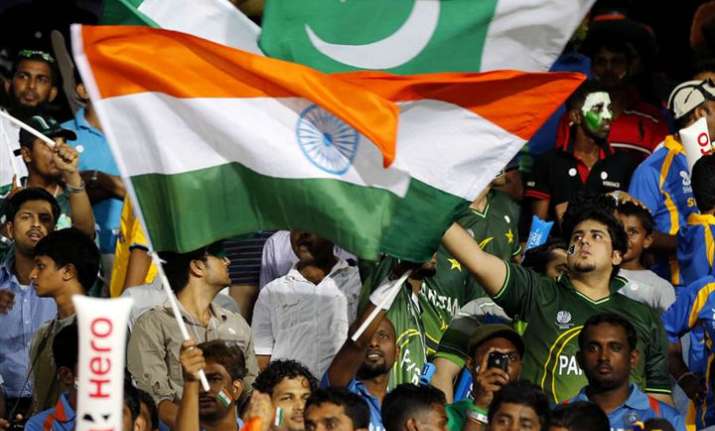 Kolkata: The Indian team will face-off against arch-rivals Pakistan in the much awaited high-voltage clash today at Eden Gardens Stadium in Kolkata.
The 'Men in Blue', who were the clear title-favourites for the ongoing World T20 Championship, will be fighting for survival in the tournament after facing a shocking defeat in their opener against New Zealand in Nagpur. 
In case India loses to Pakistan in tomorrow's match, the current World No. 1 T20 team will face an early elimination. 
Pakistan, on the other hand, will look forward to register their first ever win against India in any format of the World Cup, be it in the 20-over or 50-over format. India have won all the ten World Cup matches they have played against Pakistan. The two teams have faced each other seven times in T20 Internationals and Pakistan has won just one game of these.
We bring you key determinants that could make or break the fortunes of either team in tomorrow's clash.
Big Worries for Men in Blue
Are Indian batsmen no longer a master of playing spin? 
Indian batsmen, touted as the best players against spin bowling, gave nine wickets to Kiwi spinners in their opening game. In 2016, Indian batsmen have a better strike and run rate against pace bowling than spin. Can they shrug off their underperformance and match up to their standards?
Yuvraj Singh: Is he really the one to count upon?
Yuvraj Singh's deteriorating performance since 2014 is another big worry for the India team. Out of the 12 T20 matches he has played for India in 2016, Yuvraj has batted in eight innings in which he has made a total of 118 runs with an average of 23.60. 
Since his comeback in 2014, his strike rate has also come down from 144.69 to 105.36. Also, the percentage of dot balls consumed by him has risen from 36.17 per cent to 53.57 per cent.
Records at Eden Gardens going against India 
The India vs Pakistan record at Eden Gardens don't seem to favour the hosts at all as they have lost all the four ODIs against Pakistan. (The two teams have not played any T20 match till date at Eden Gardens).   
How the run rates stack up
Another big worry is the huge difference in run rate between the two teams in the current World T20. India's run rate stands at -2.35, while that of Pakistan is at 2.75. India has just three matches left in the group stage and if the hosts want to move forward to the next round, they need to win them all. 
How the stats add up
According to the statistics, India wins 78 per cent of the matches when their openers put 40 or more runs on the scoreboard. Also, when Rohit Sharma scores above 30 runs, team's winning percentage whoops up to 88 per cent. 
Team India's win will not only depend on the batting performance but also the spin bowling. Figures show that India registers win in 82 per cent matches when Ravichandran Ashwin takes two or more wickets. 
If India bats first, they will have to ensure a respectable total. They have successfully defended 76 per cent matches when put up a total upwards of 150 on board.