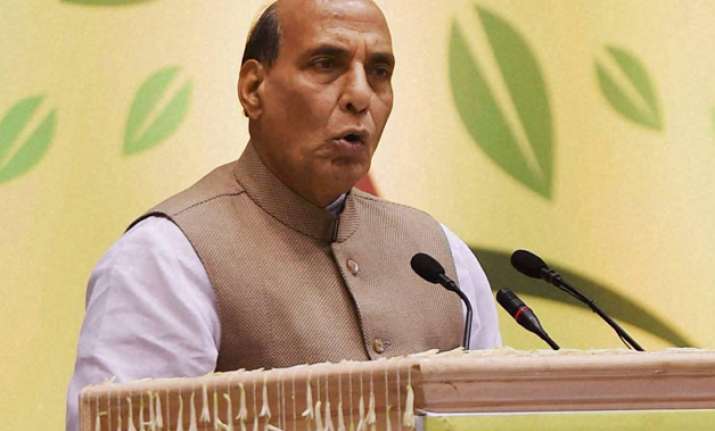 New Delhi: In the backdrop of Pakistan demanding a written assurance from India to provide adequate security to their cricket teams, Union Home Minister Rajnath Singh today reiterated his government's commitment that 'anyone coming to India will be provided adequate security'.
"Anyone coming to India will be provided security. There is no doubt about it," the Home Minister told reporters when asked about security to Pakistan's T20 cricket teams.
Senior BCCI functionary Rajeev Shukla also said the board takes full responsibility of providing fool proof security to all the teams visiting the nation for the tournament.
"I am giving the assurance that full proof security would be provided to them .We are supposed to speak to the concerned state government and to the district administration. We are supposed to provide the security. We will be getting in touch with them. And our entire team is working in coordination with the local administration. So, security and safety will be taken care of," he said.
"Now, Pakistan should not insist on this particular thing that they want something on writing. That's between the two governments and I can't say on that. But I think they should send their team," he added.
He said that it was the board of the host nation which was responsible for the safety and security of the any team visiting the country.
"The entire security responsibility goes on the host board. So, why Pakistan Cricket Board is concerned about it. They wanted their venue to be shifted from Dharamsala to Kolkata that has been done. Now, I think they should not be concerned about the safety and the security of their players. That's the responsibility of the BCCI," he said.
The Pakistan government has declined to send the men's and women's teams for the World Twenty20 and maintained that the Government of India should provide in written about the security for Pakistani players and fans during the tournament.
"The Pakistan team is likely to leave on Friday for Dubai and then to Kolkata to take part in the World T20," a PCB official said today.
"The ICC and the BCCI have been very accommodating, but it is the Indian government's security assurance that matters the most. Thus far, there has been no such indication from them. Pakistan will not go to India until foolproof security assurance from India (is provided). There are threats to the Pakistan team in India ... (with) groups threatening to disrupt Pakistan's match. How can we play in such situation," Interior Minister Chaudhry Nisar had told the media on Thursday.
Earlier, the Pakistan Cricket Board (PCB) had announced that it was ready to send the team to India as the ICC and the BCCI had decided to shift the Super 10 Group 2 clash between India and Pakistan from Dharamsala to Kolkata.
Watch Video: