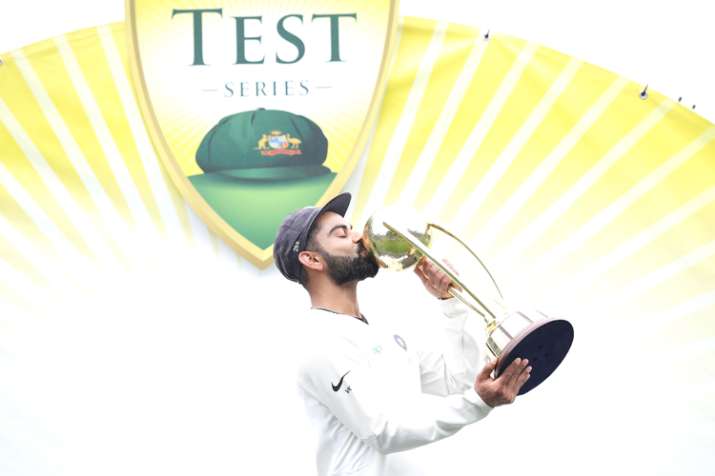 Indian captain Virat Kohli has been chosen the captain of ICC Men's ODI and Test Teams of the Year after a stellar 2018 which saw him end the year as the top-ranked batsman in both the formats.
With three cricketers each from India and New Zealand forming part of the Test team, the selection mirrors the successes of these two teams in the longest format in the preceding year. While India secured an unprecedented four overseas Test wins in South Africa, England and Australia, New Zealand trumped Pakistan in their own backyard for a famous 2-1 series victory.
From India young sensation Rishabh Pant finds a place as the wicketkeeper in the Test team while his teammate and fast-bowling phenomenon Jasprit Bumrah was selected in both the ODI and Test teams. Indian opener Rohit Sharma and mystery-spinner Kuldeep Yadav join Kohli and Bumrah to form an India-dominated ODI team of the year. England, who are the No. 1 ranked ODI side in the world share the honours with India in the respective team with four of their cricketers including wicket-keeper Jos Buttler finding a place in the side.
Congratulations to the ICC Test Team of the Year 2018!

🇳🇿 @Tomlatham2
🇱🇰 @IamDimuth
🇳🇿 Kane Williamson
🇮🇳 @imVkohli (c)
🇳🇿 @HenryNicholls27
🇮🇳 @RishabPant777
🏝 @Jaseholder98
🇿🇦 @KagisoRabada25
🇦🇺 @NathLyon421
🇮🇳 @Jaspritbumrah93
🇵🇰 @Mohmmadabbas111

➡️ https://t.co/ju3tzAxwc8 pic.twitter.com/0H28spZUmm

— ICC (@ICC) January 22, 2019
ICC Men's Test Team of the Year (in batting order): 
1. Tom Latham (New Zealand)
2. Dimuth Karunaratne (Sri Lanka)
3. Kane Williamson (New Zealand)
4. Virat Kohli (India) (capt)
5. Henry Nicholls (New Zealand)
6. Rishabh Pant (India) (wk)
7. Jason Holder (Windies)
8. Kagiso Rabada (South Africa)
9. Nathan Lyon (Australia) 
10. Jasprit Bumrah (India)
11. Mohammad Abbas (Pakistan)
Presenting the ICC Men's ODI Team of the Year 2018! 🏆

🇮🇳 @ImRo45
🏴󠁧󠁢󠁥󠁮󠁧󠁿 @jbairstow21
🇮🇳 @imVkohli (c)
🏴󠁧󠁢󠁥󠁮󠁧󠁿 @root66
🇳🇿 @RossLTaylor
🏴󠁧󠁢󠁥󠁮󠁧󠁿 @josbuttler (wk)
🏴󠁧󠁢󠁥󠁮󠁧󠁿 @benstokes38
🇧🇩 @Mustafiz90
🇦🇫 @rashidkhan_19
🇮🇳 @imkuldeep18
🇮🇳 @Jaspritbumrah93

➡️ https://t.co/EaCjC7szqs#ICCAwards 🏆 pic.twitter.com/dg64VGuXiZ

— ICC (@ICC) January 22, 2019
ICC Men's ODI team of the year (in batting order):
1. Rohit Sharma (India)
2. Jonny Bairstow (England)
3. Virat Kohli (India) (capt)
4. Joe Root (England)
5. Ross Taylor (New Zealand)
6. Jos Buttler (England) (wk)
7. Ben Stokes (England)
8. Mustafizur Rahman (Bangladesh)
9. Rashid Khan (Afghanistan)
10. Kuldeep Yadav (India)
11. Jasprit Bumrah (India)
 
(With inputs from ICC's Media Release)