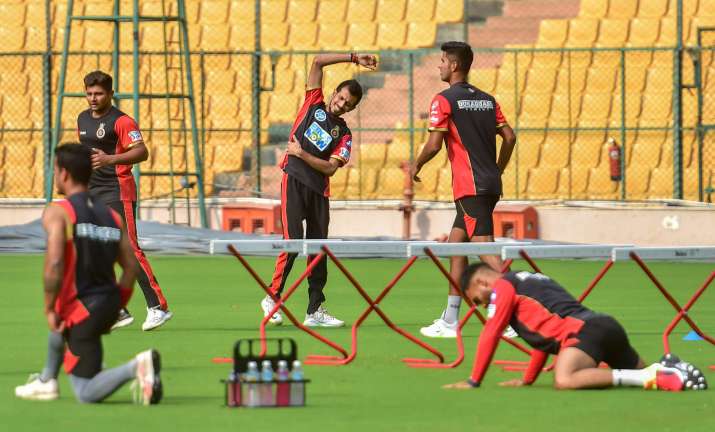 Team India and Royal Challengers Bangalore star leg-spinner Yuzvendra Chahal firmly believes that bowling at the M Chinnaswamy is baptism by fire and that has made him more fearless in international cricket.
"When you play for India, you get more confidence because of bowling at Chinnaswamy. A spinner is always worried about short boundaries, but having bowled here, I don't fear bowling anywhere," Chahal said at a media conference.
The extremely short side boundaries of Chinnaswamy tests the mettle of best of slow bowlers.
"I have been a successful bowler at the Chinnaswamy for the past four years despite its short boundaries." 
Chahal assessed that Chinnaswamy pitch this time is flatter compared to last season of the Indian Premier League (IPL).
"Compared to last year, the strips at the Chinnaswamy are different. It looks much better. One can expect a couple of 200-plus totals. In fact, I prefer flat wickets, for it gives our batsmen a chance to post big totals," he said.
According to the 27-year-old spinner, Washington Sundar's presence in RCB will give skipper Virat Kohli more options during powerplay and middle overs.
Washington-Chahal forged a lethal combination during India's Nidahas T20 Tri-Series triumph in Sri Lanka last month.
"In Sri Lanka, Washington bowled in the powerplay overs and I was bowling in the middle overs. In previous IPL seasons, I used to bowl in the Powerplays and was left only with two overs (during later stages). Now we have options. One can bowl in powerplay and can chip more in middle overs," Chahal said.
Wrist spinners are doing well but are always under the pump with a chance of going for a lot of runs at times. But the wiry leg-break bowler believes that a comeback is possible if one has a big heart.
"In this format, you are sure to get hit. For instance, in Nidahas Trophy, I was hit by Sri Lankans for 27 runs in two overs. I just told myself, you need to forget the past and make a strong comeback to pick wickets after being smashed," he said.
(With PTI inputs)