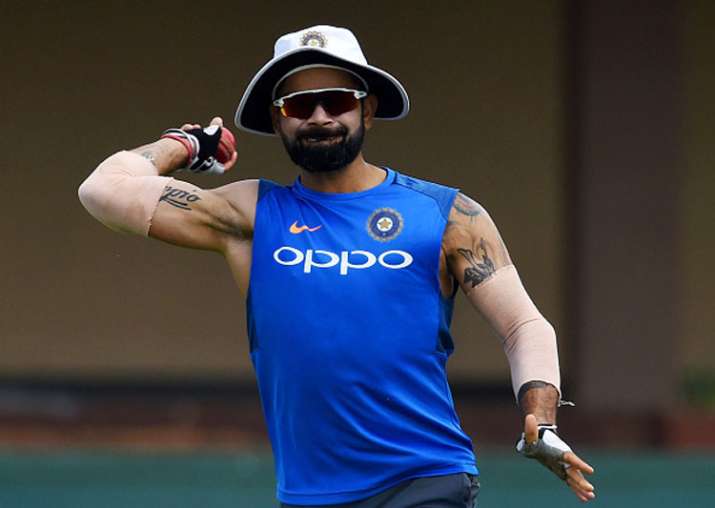 India captain Virat Kohli on Tuesday ruled out any possibility of Rohit Sharma opening in the first Test against Sri Lanka, which is starting at Galle on Wednesday. The speculations of Rohit, who has played in that position for India in limited-overs cricket, opening the batting surfaced after regular opener Lokesh Rahul was infected with viral fever and was eventually ruled out of the first Test on Monday. Kohli, however, dismissed the idea saying that Rohit has never opened in Tests and that the team has other specialist openers who can do the job in Rahul's absence.
"Rohit Sharma has never opened in Test cricket and we don't see that kind of experiment happening here as we have specialist openers in the team and they will obviously be starting in this game," Kohli said at the press conference ahead of the first Test. 
It is now clear that Shikhar Dhawan and Abhinav Mukund will open the batting at Galle.
The Indian captain also gave an update on Rahul's health condition.
"KL Rahul unfortunately is down with flu and luckily it is not something which is very serious... he just needs a couple of days rest to recover," he said.
Kohli further said Rahul's absence gives an opportunity to other players to step up and cement their place in the team.
"KL Rahul is a very established player for us and he has played really well in the couple of years in all formats. He is a very solid player but these kind of scenarios present opportunities for other players to step up and show what they are capable of and have a sort of solid performance so that they can stay with the team for a longer period," he said.
Kohli, whose first Test series victory as captain came in Sri Lanka two years back, said his team has a great balance and with no serious areas of concern. During the 2015 Sri Lanka tours, the Indian team bounced back after losing the first Test and went on to claim the three-match series 2-1, which was also India's first Test series win on Sri Lankan soil after 22 years. 
"I don't think there's any massive areas of concern for the team. We have been looking to fine tune smaller areas during the course of the game which probably people might not pick up also. We have given responsibility to the players to identify those areas and work on those areas themselves. We can't expect things to happen themselves. You need to work hard for everything on the cricket field," he said.
The 28-year-old skipper also hinted at presenting young all-rounder
Hardik Pandya
with Test debut at the historic Galle stadium.
"We have got great balance in the side. We have got a player like Hardik Pandya who is a wicket-taking bowler. In every game he plays and on any surface, he has a knack of picking up wickets. So, he has a great chance of playing as well. So, that gives us the balance," he said.