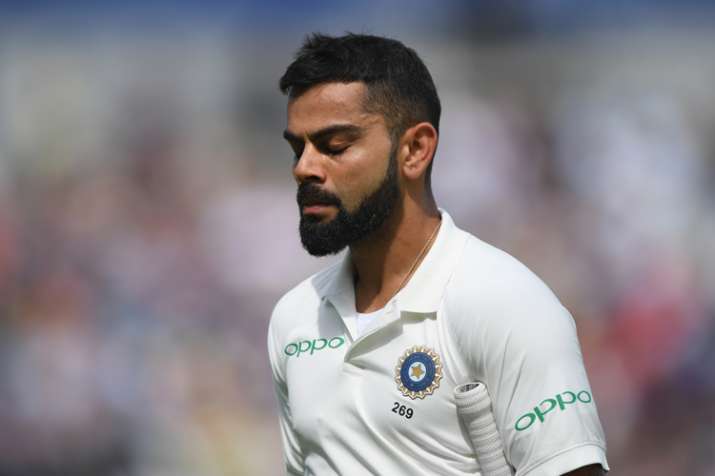 England held their nerve to beat India by a close margin of 31 runs in the first Test at Edgbaston today. Even though India started the fourth day at 110/5, a fiery spell from Ben Stokes sealed their fate as they lost the rest of the wickets for the addition of a mere 52 runs.
During the presentation ceremony after the defeat, a dejected Virat Kohli summed up his feelings by calling it a great game of cricket.
"It was a great game of cricket. Glad to be a part of such an exciting Test match. There were a couple of moments when we came back. A team like England is relentless, they made us work very hard for our runs. Our shot selection could have been better," said Kohli.
Disappointed with the poor performance of his batters Kohli said: "We definitely need to apply ourselves better with the bat, but England came back superbly and we need to take the positives and move forward." 
The skipper credited his team's lower order and said that the rest of the players could learn a thing or two from them while stressing that India needs to be relentless in its approach going forward.
"There is a lot to learn from the lower order in the first innings, Ishant (Sharma) and Umesh (Yadav) got stuck in the middle. There is no hiding from this game; we need to be positive, relentless," opined the maverick batsman.
When asked how high he rates his own century from the first innings he said: "From the team's point of view, my innings in the first innings is right up there, perhaps second after the knock in Adelaide. Had we won it would have been the best."
With four more Tests to follow in the series Virat said that the team would like to put this loss behind them and get ready for the next match as soon as possible. 
"We need to think how to regroup and get back for the next match. Test cricket is my favourite format, there is nothing better than testing yourselves over five days and I hope the fans like it too," concluded Kohli.