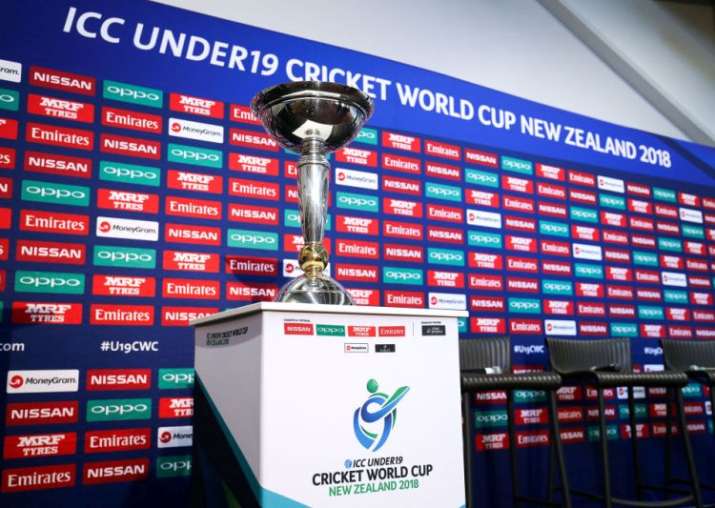 Under the coaching of Rahul Dravid and captaincy of Prithvi Shaw, three-time champions India eye another silverware in the prodigious cricketers' biggest extravaganza -- ICC Under-19 World Cup -- starting January 13 in New Zealand.
The tournament has given the world some cricketing stars like Virat Kohli and Steve Smith. Watching the game pacing up to a stellar level, critics and fans both expect to see more young-guns making their debuts for the respective senior national sides through the stepping stone tournament.
The mega event doesn't only matures one as a cricketer but also makes them a sensation throughout the world, thanks to the live broadcast.
In the opening match, Pakistan will face Afghanistan, before hosts New Zealand taking on reigning champions West Indies. 
The complete schedule of the ICC Under-19 World Cup 2018:
January 13, Saturday, Match 1 
Pakistan U-19 vs Afghanistan U-19, Group D
Cobham Oval, Whangarei, 03:00 AM IST
January 13, Saturday, Match 2
Zimbabwe U-19 vs Papua New Guinea U-19, Group B
Lincoln No 3, Lincoln, 03:00 AM IST
January 13, Saturday, Match 3
Bangladesh U-19 vs Namibia U-19, Group C
Bert Sutcliffe Oval, Lincoln, 03:00 AM IST
January 13, Saturday, Match 4
New Zealand U-19 vs West Indies U-19, Group A
Bay Oval, Mount Maunganui, 06:30 AM IST
January 14, Sunday, Match 5
Sri Lanka U-19 vs Ireland U-19, Group D
Cobham Oval, Whangarei, 03:00 AM IST
January 14, Sunday, Match 6
South Africa U-19 vs Kenya U-19, Group A
Lincoln No 3, Lincoln, 03:00 AM IST
January 14, Sunday, Match 7
India U-19 vs Australia U-19, Group B
Bay Oval, Mount Maunganui, 06:30 AM IST
January 15, Monday, Match 8
Bangladesh U-19 vs Canada U-19, Group C
Bert Sutcliffe Oval, Lincoln 03:00 AM IST
January 15, Monday, Match 9
England U-19 vs Namibia U-19, Group C
Queenstown Events Centre, Queenstown, 03:00 AM IST
January 16, Tuesday, Match 10
Pakistan U-19 vs Ireland U-19, Group D
Cobham Oval, Whangarei, 03:00 AM IST
January 16, Tuesday, Match 11
India U-19 vs Papua New Guinea U-19, Group B
Bay Oval, Mount Maunganui 06:30 AM IST
January 17, Wednesday, Match 12
Sri Lanka U-19 vs Afghanistan U-19, Group D
Cobham Oval, Whangarei, 03:00 AM IST
January 17, Wednesday, Match 13
Zimbabwe U-19 vs Australia U-19, Group B
Lincoln No 3, Lincoln, 03:00 AM IST
January 17, Wednesday, Match 14
New Zealand U-19 vs Kenya U-19, Group A
Hagley Oval, Christchurch, 03:00 AM IST
January 17, Wednesday, Match 15
Windies U-19 vs South Africa U-19, Group A
Bay Oval, Mount Maunganui, 06:30 AM IST
January 18, Thursday, Match 16
Namibia U-19 vs Canada U-19, Group C
Bert Sutcliffe Oval, Lincoln, 3:00 AM IST
January 18, Thursday, Match 17
Bangladesh U-19 vs England U-19, Group C
Queenstown Events Centre, Queenstown, 03:00 AM IST
January 19, Friday, Match 18
Sri Lanka U-19 vs Pakistan U-19, Group D
Cobham Oval, Whangarei, 03:00 AM IST
January 19, Friday, Match 19
Australia U-19 vs Papua New Guinea U-19, Group B
Lincoln No 3, Lincoln, 03:00 AM IST
January 19, Friday, Match 20
India U-19 vs Zimbabwe U-19, Group B
Bay Oval, Mount Maunganui, 06:30 AM IST
January 20, Saturday, Match 21
Afghanistan U-19 vs Ireland U-19, Group D
Cobham Oval, Whangarei, 03:00 AM IST
January 20, Saturday, Match 22
West Indies U-19 vs Kenya U-19, Group A
Lincoln No 3, Lincoln, 03:00 AM IST
January 20, Saturday, Match 23
England U-19 vs Canada U-19, Group C
Queenstown Events Centre, Queenstown, 3:00 AM IST
January 20, Satuday, Match 24
New Zealand U-19 vs South Africa U-19, Group A
Bay Oval, Mount Maunganui, 06:30 AM IST
January 22, Monday, 03:00 AM IST
Plate Quarter-Final 1 (C3 vs B4), Lincoln No 3, Lincoln
January 22, Monday, 03:00 AM IST
Plate Quarter-Final 2 (B3 vs C4), Bert Sutcliffe Oval, Lincoln
January 23, Tuesday, 03:00 AM IST
Super League Quarter-Final 1 (C1 v B2), Queenstown Events Centre, Queenstown
January 23, Tuesday, 03:00 AM IST
Plate Quarter-Final 3 (D3 v A4), Lincoln No 3, Lincoln
January 23, Tuesday, 03:00 AM IST
Plate Quarter-Final 4 (A3 v D4), Bert Sutcliffe Oval, Lincoln
January 24, Wednesday, 03:00 AM IST
Super League Quarter-Final 2 (D1 v A2), Hagley Oval, Christchurch
January 25, Thursday, 03:00 AM IST
Super League Quarter-Final 3 (A1 v D2), Hagley Oval, Christchurch
January 25, Thursday, 03:00 AM IST
Plate playoff Semi-Final 1, Mainpower Oval, Rangiora
January 25, Thursday, 03:00 AM IST
Plate Playoff Semi-Final 2, Lincoln No 3, Lincoln
January 25, Thursday, 03:00 AM IST
Plate Semi-Final 1, Bert Sutcliffe Oval, Lincoln
January 26, Friday, 03:00 AM IST
Super League Quarter-Final 4, (B1 v C2), Queenstown Events Centre, Queenstown
January 26, Friday, 03:00 AM IST
Plate Semi-Final 2, Bert Sutcliffe Oval, Lincoln
January 27, Saturday, 03:00 AM IST
Super League Playoff Semi-Final 1, Hagley Oval, Christchurch
January 27, Saturday, 03:00 AM IST
15th Place Playoff, Mainpower Oval, Rangiora
January 27, Saturday, 03:00 AM IST
13th Place Playoff, Lincoln No 3, Lincoln
January 28, Sunday, 03:00 AM IST
Super League Playoff Semi-Final 2, Queenstown Events Centre, Queenstown
January 28, Sunday 03:00 AM IST
11th Place Playoff, Mainpower Oval, Rangiora
January 28, Sunday, 03:00 AM IST
Plate Final, Bert Sutcliffe Oval, Lincoln
January 29, Monday, 03:00 AM IST
Super League Semi-Final 1, Hagley Oval, Christchurch
January 30, Tuesday, 03:00 AM IST
Super League Semi-Final 2, Hagley Oval, Christchurch
January 30, Tuesday, 03:00 AM IST
7th Place Playoff, Queenstown Events Centre, Queenstown
January 31, Wednesday, 03:00 AM IST
5th Place Playoff, Queenstown Events Centre, Queenstown
February 01, Thursday, 03:00 AM IST
3rd Place Playoff, Queenstown Events Centre, Queenstown
February 03, Saturday, 03:00 AM IST
Final, Bay Oval, Mount Maunganui