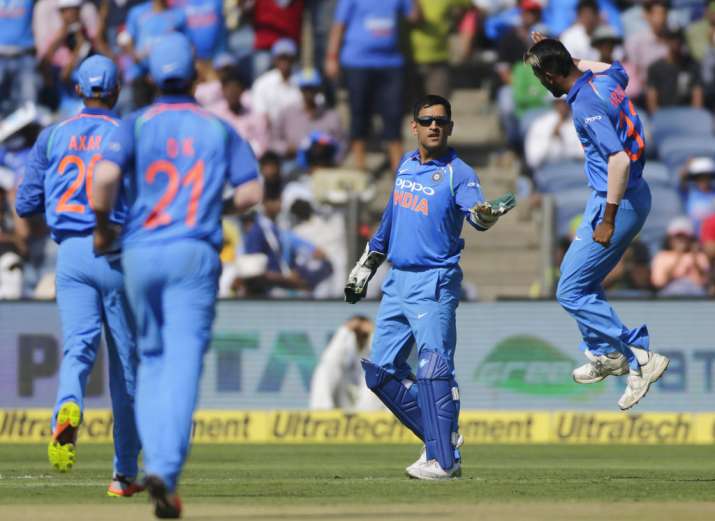 Former Australia wicketkeeper-batsman Adam Gilchrist believes Mahendra Singh Dhoni has owned the right to decide on when to hang his boots. Recently, there has been a lot of discussion regarding Dhoni's future in the Indian team with many pundits suggesting that time may be fast running out for the former captain. However, Gilchrist quashed all such claims and said only Dhoni would be the right person to take a call on whether or not he should play in the 2019 World Cup.
"Only he knows that. I think he has owned the right to make that decision," Gilchrist told India TV during an exclusive chat on Thursday.
Gilchrist also praised India captain Virat Kohli, who is on a currently on a record-breaking spree. Kohli recently went past former Australia captain Ricky Ponting's record of 30 ODI hundreds to sit behind batting maestro Sachin Tendulkar in the list of highest centuries in the 50-over format.
Kohli now has 32 ODI hundreds registered to his name and he looks poised to break Tendulkar's record of 49 tons.
"Virat is scoring big runs. He is a world-class player," he said.
Gilchrist also said that he was impressed with Kohli's passionate captaincy but stopped short comparing him with Ponting.
"I don't think it is right to compare Virat Kohli's captaincy with Ricky Ponting's captaincy. We shouldn't compare players of different eras. But Virat has got his own style, he is aggressive. His team seems to be inspired by that and look he is getting results," he said.
Gilchrist said Kohli's captaincy will only be measured by India's performance in overseas conditions.
"But again his captaincy will get under closer scrutiny when he is playing under conditions that aren't suited to his team and he needs to make big and tactical decisions on how to get through difficult times. I am sure he'll have great confidence on getting through that. So, that's how he will be judged. I have been very impressed with the passion with which he leads his team," he said.
"India is a very strong side, particularly in their home conditions. They have got quality spin bowling, they have got pace bowling options. Their batting has really performed well here. But I think the teams are judged on how they perform overseas. So, I think they already have an eye towards the South Africa tour," he added.
(With inputs from India TV Sports Correspondent Vaibhav Bhola)