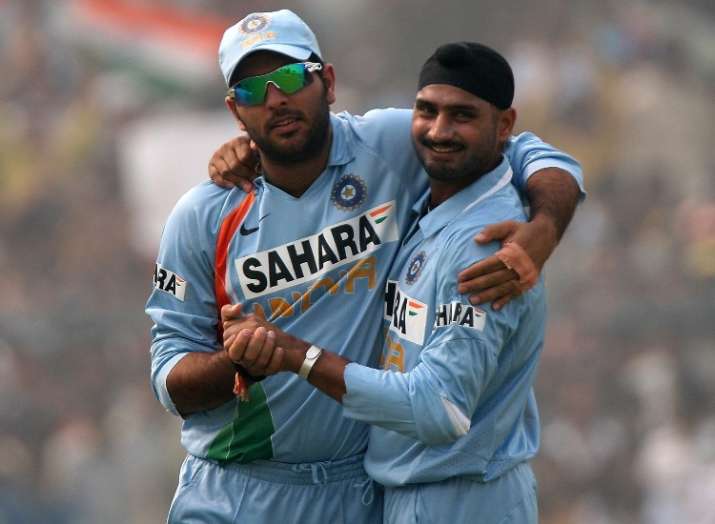 With the fast-approaching 11th edition of the Indian Premier League, two of India's seasoned pros and good friends are standing at a junction, with their eyes firmly placed on probably one of the last trains to head 'home'. The moment they board the train, it will be the dawn of a new era for Punjabi mundas - Harbhajan Singh and Yuvraj Singh. However, the journey won't be without a few hurdles. While it will be a matter of shifting loyalties for Harbhajan, for Yuvraj, it's no less than a homecoming, which may or may not be a happy one.
In IPL 2018 - starting April 7 - Harbhajan will be seen in the yellow jersey of Chennai Super Kings after spending 10 years with Mumbai Indians and Yuvraj will be back with the Kings XI Punjab, a team which had the southpaw as its marquee player during the first three years of IPL.
It won't be wrong to say that both the cricketers, who play for Punjab in the domestic circuit, are currently staring towards the fag end of their illustrious international careers. Both are in the wrong side of their 30s and are jostling against time with the young bloods to find a place back in the national team.
Yuvraj played his last match for India in June 2017 and Harbhajan appeared in India colours more than two years ago. With each passing day, it will be more unlikely that the two one-time stalwarts of Indian cricket get a chance to play for the country.
The next two months will be crucial for both Harbhajan and Yuvraj, who surely will have a point to prove. And what's better than doing it in IPL?
Ahead of the tournament, Harbhajan, in an exclusive interview to India TV, shared an emotional message for his buddy Yuvraj.
"He's playing once again for Kings XI Punjab which is a very good thing for both Yuvraj and Punjab. I wish Yuvraj all the very best. However, I would like to give my best on the field despite being good friends with Yuvraj," Harbhajan told India TV.
The 37-year-old Harbhajan, who was a part of Mumbai Indians since 2008 and saw the team lift three IPL titles, was picked up by Chennai Super Kings at his base price of Rs 2 crore at this year's players auction.
"With IPL in mind, I'm putting all my hard work on the ground. I'm training hard and putting all my focus on all the three departments be it -batting, bowling and fielding. I'm excited to play for Chennai this year and I'll give my 100 percent on the field. I will like to contribute as much as possible on the field," Harbhajan said.
"I'm grateful to Mumbai Indians as I've spent 10 memorable years with the franchise. I'll cherish all the memories I've made with MI. But, I will remain loyal to CSK this time as they have bought me for the new edition of the league and just like any other professional I'll repay my  faith towards the team management."
Meanwhile, Yuvraj too was bagged by Kings XI Punjab at his base price of Rs 2 crore. He has already said that the upcoming IPL holds great significance for him as a good performance in the T20 event will help him keep in the fray for a spot in the 2019 World Cup.
So, keep a close eye on the two cricketers with hearts of a gladiator as they look to turn back the clock in cricket's biggest arena.