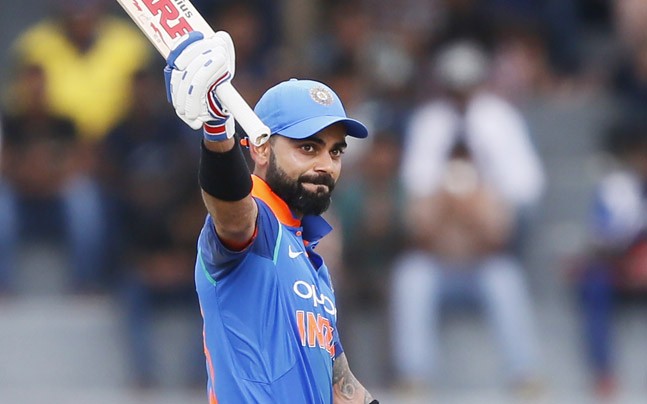 Former Sri Lankan skipper Kumar Sangakkara was all praise for Indian captain Virat Kohli as the legendary wicket-keeper feels that he is 'head and shoulders' above anyone in the cricketing world. 
With 25 Test tons and 39 ODI centuries, Kohli is rapidly cruising through all records, creating and setting milestones on a daily basis and currently, there is no stopping the ICC No.1 ranked Test and ODI batsman. 
Recently, skipper Kohli signed off his tour Down Under on a high with a first ODI series win in New Zealand in 10 years. However, it is to be noted that prior to this, India played just one series here since the one in 2009.
He was then rested for the T20Is against New Zealand, which India lost 1-2. 
All eyes will now be on the Men in Blue when Australia tour India for a limited-overs series which consists of two T20Is and five ODIs respectively.
In an exclusive interview with India Today, Sangakkara was fascinated by the way how everything about the Indian skipper stands out and in coming years, he would be regarded as one of the greats.
"Everything about Virat's game stands out. I think he is head and shoulders above anyone else in world cricket today. And I think going forward, he will be one of the greatest ever cricketers, if not the greatest ever," Sangakkara told India Today.
"He has this incredible knack of scoring runs and has a very very solid method that he believes in and is very repeatable and if you see the tempo which he bats with, it hardly changes. He does read the situation very well. He is a very passionate guy, you see that in his expressions on the field so I think it's not just one aspect, it's the overall aspect of both the person and how he has sorted his batting and his attitude," Sangakkara added.
Former Sri Lankan skipper Mahela Jayawardene lauded Kohli for the fact for his ability to separate his captaincy from his batting. 
"Being the captain as well is not an easy thing. He has managed to understand that the captain's role is on the field but when he is batting it is that which is very important. So those are little things that define a personality and that is what he has been able to do really well," Jayawardene told India Today.
The skipper will soon be in action when Australia tour India for a limited-overs series which will consist of five ODIs and two T20Is which begins February 24.