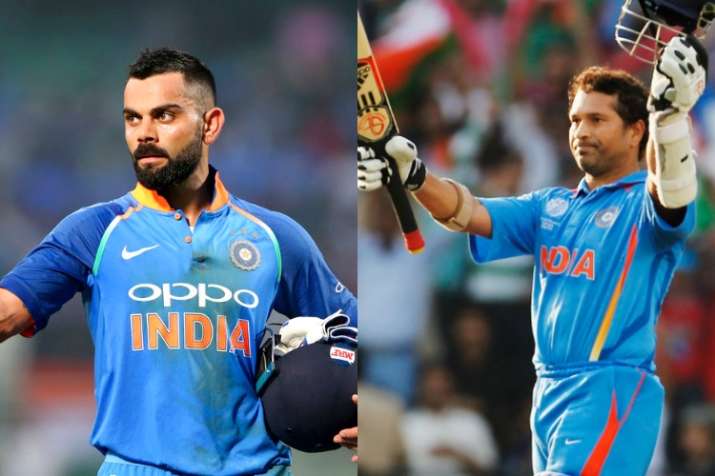 It's no secret that legendary Australia spinner Shane Warne is all gaga over Indian cricket captain Virat Kohli's performances in the recent years, but the retired leggie has opened up about what exactly he admires about the run-machine and as to who is the better batsman between Kohli and the Master Blaster.
Kohli has been on a run-fest so far, which saw him break a couple of massive records in 2018, bag three major ICC awards and impose his dominance around the world. However, as Kohli continues his supremacy in all three formats of the game, the debate of the better batsman between the Kohli and Sachin Tendulkar has got the cricketing world in a frenzy. 
In an exclusive interview with Times of India, Warne lauded and praised the batsman for standing for what he believes in.
"He's fantastic. I love watching him bat and I love listening to him. I am a big fan," Warne told TOI.
"You know what he does? He stands up for what he believes in. He speaks how he feels and he's real. He's emotional, a bit too emotional sometimes on the field. But that's the part of the charm." 
Kohli has never shied away from a confrontation, as we recently saw in the Test series against Australia, when he stepped up to Australia captain Tim Paine. The banter was immense in the four-match series which saw India win their maiden Test series Down Under. 
However, the retired leggie lauded the Indian skipper for his honesty and feels that he is an epitome of pure competitiveness.
"I think world cricket loves him. Everyone loves Virat Kohli because it's refreshing to hear him talk so honestly and openly. He loves confrontation. That's why he has those 100s in chases. How many? 23? 24? It's unbelievable. The next best is how much? I can't remember who's second. That's phenomenal. That's something inbuilt into you. That's not skill or talent. He's got a lot of that. That is just pure competitiveness and pure desire - to get the job done," said Warne.
Coming to one of the most heated and debatable arguments, on who is the better batsman between Master Blaster Sachin Tendulkar and Kohli, Warne weighs in on the matter.
"Very hard to judge when someone is playing and very hard to judge eras. Think about the bowlers in the 90s. Different surfaces that seamed. Now they're a lot flatter. The ball swung more. So many invariables. But to think that someone was better than and Sachin - in those mid-90s - against Wasim, Waqar etc; Curtly, Courtney, etc; McGrath, Donald, Saqlain, Mushy, Vettori, Murali, myself. You can go on. "
"Virat is breaking all the records, which is great but I want to wait. See, what people miss is this: You can set benchmarks, score those many centuries, average that high, score a lot many runs. But what people are going to remember you for is the way you played the game. Someone should run down the street and ask fans, how many runs did Mark Waugh make or what his average was? They wouldn't have a clue but chances are, here's what they'll say: I loved watching him play. To my mind, what's already evident is that Virat is one of the best players of all time. In one-day team, he probably has to go down with Viv Richards as the greatest ever, not so much for the record but for the way he plays his game. But I'll judge him at the end of his career," said Warne.
The skipper will soon be in action when Australia tour India for a limited-overs series which will consist of five ODIs and two T20Is which begins February 24.