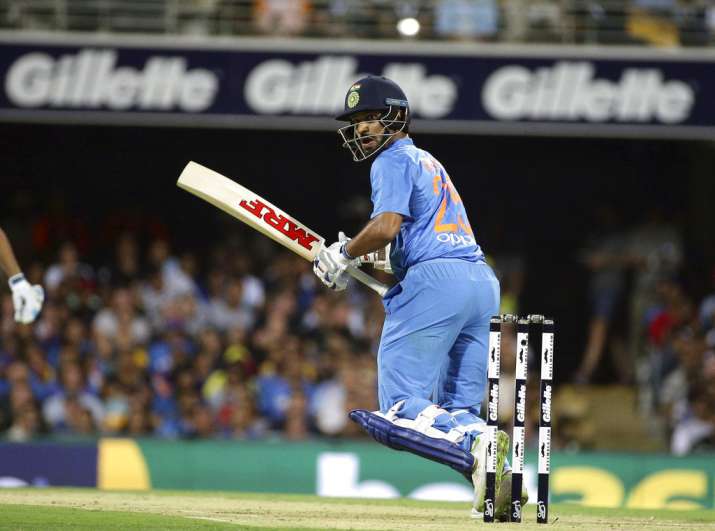 Australia vs India, 1st T20I India vs Australia Cricket Updates: A nervy win for Australia. The players are excited and overjoyed but coach Justin Langer looks stern in the dressing room. The Aussies nearly snatched defeat from the jaws of victory. What a thriller in the end. A game which had plenty of twists and turns. Australia started slowly, but then Lynn, Maxwell and Stoinis were powering the hosts to a big total before the rain came bucketing down. That seemed to take the momentum away from the home side but when the revised DLS target was disclosed, 174 from 17 overs, Australia did seem to have the advantage. LIVE SCORECARD (Get Live Coverage in Hindi)
Highlights, INDIA VS AUSTRALIA, 1ST T20I AT THE GABBA, BRISBANE
With the 4 run win via DLS, Australia have taken a 1-0 lead in the three-match series. What a win for Australia given their recent form. They lost the one-off T20I to South Africa just a few days ago and today, they were ruthless and relentless. Utterly dominant and kept their nerve. A great win for Australia and for India, they will hope to bounce back in the 2nd T20I. Thank You for tuning in and we will be back in the 2nd T20I on Friday, November 23. Till then, Adios.
India scoring more than Australia yet losing. Australia ke score par laga GST bhaari pad gaya. But a good thrilling game to start the series.#AUSvIND

— Virender Sehwag (@virendersehwag) November 21, 2018
AUSSIES WIN! A four-run win (DLS Method) and Australia take a 1-0 series lead over India: https://t.co/HW09hVOINP #AUSvIND pic.twitter.com/cM4JSxM4BZ

— cricket.com.au (@cricketcomau) November 21, 2018
17.30 IST: Australia (158/4) beat India (169/7) by 4 runs (DLS) in Brisbane to take 1-0 in 3-match series. Dhawan 76, Stoinis 2/27
17.24 IST: OUT! Stoinis removes Krunal for 2. Caught but this could be a blessing in disguise for India. 11 needed from 3 but it is Dinesh Karthik on strike. India 163/6 in 16.3 overs
17.20 IST: FOUR! Hammered by Karthik to long on. 13 runs needed in 1 over. Crucial boundary! Karthik walks across his stumps again and Tye bowls it full and wide outside off. No problems for Karthik as he clubs it wide of long on for a boundary! IND 161/5 in 16 overs
17.18 IST: OUT! That shot wasn't required! Cheaply given away by Panyt. Tye removes Pant for 20. India 156/5 in 15.3 overs
17.15 IST: FOUR! WHAM! Early boundary in the over! Full and wide outside off, Karthik walks into the shot and blasts it wide of mid off and cover for a boundary!
17.14 IST: 150 UP FOR INDIA! 24 needed from 2 overs. India's game to lose from here with the Aussie struggling with the wet ball. Short and outside off, DK reaches out and flays it through point for a run. 11 from the over, 36 from the last 2!
17.08 IST: FOUR! Flexible shot by Karthik. Times the shot, picks the gap and that's a boundary. IND 146/4 in 14.3 overs
17.04 IST: SIX! Karthik is lucky there is he smashes Tye's full toss only to find Maxwell there as he attempts to throw ball after crossing the fence. Couldn't get a proper grip and hits the ground with the ball in his hand. Six more for India. IND 139/4 in 14 overs
17.00 IST: FOUR! Important boundary by Karthik. The off-cutter. India need to keep pumping in runs. IND 133/4 in 13.5 overs
17.00 IST: FOUR! Hammered! IND 124/4 in 13.2 overs
16.59 IST: SIX! That's a maximum that India wanted. Rishabh plays a beautiful shot to smash that to fine leg. A loosener to start, full and down the leg side. Pant takes maximum toll, swinging it miles over fine leg! 54 needed from 23 balls now! Pant moves to 11 from 8 deliveries. The stand is worth 15 from 9 balls. IND 120/4 in 13.1 overs
16.56 IST: Has a mighty swing to this one but gets lesser power. Finds the gap though, between long on and mid-wicket and earns a brace.
* Dinesh Karthik, who has made his image of a finisher in the recent past, walks in next. He has a big job in front. Can he deliver?
16.49 IST: OUT! Gone this time! Jeez, that is a pretty cool catch by Jason Behrendorff! Is that the game? Another short ball outside off, Dhawan backs away to the leg side, exposing all his stumps and then tries to ramp the shot over third man. The connection is decent but he gets more height than distance. It seems to be a pretty simple catch for the man at third man but remember, he has the ropes behind him to think about too. Behrendorff does well not to tread on those. Big, big wicket for Australia. Dhawan misses out on a century, India need 69 from 32 deliveries. India 105/4 in 11.4 overs
16.44 IST: OUT! Zampa gets his second! And this is a big one, in the opposition captain. Full and outside off, a touch wide, Kohli comes down the track and looks to go inside out- his favourite shot. But because the ball is wide, he miscues. There is absolutely no timing on that and it is skewed up straight in the air. Easy catch for Chris Lynn at short third man. The asking rate keeps mounting - 80 needed from 35 balls now. India 94/3 in 10.5 overs
16.42 IST: DROPPED! Oh dear... has Zampa put down the match? That should have been taken.
14.39 IST: Good stop by Aaron Finch. Dhawan jumps down the track a bit early and on seeing that, Stoinis slows his pace down. Gabbar mistimes his shot over extra cover and Finch seems to have overrun that to his right from long off. Manages to stop it with his left hand. Two runs taken.
16.33 IST: OUT! Stumped and KL Rahul is really unlucky here. His foot was on the line but nothing behind. Zampa removes KL Rahul for 13. That is a big wicket for Zampa. it will increase his confidence 10-fold. India 81/2 in 8.2 overs
16.29 IST: FOUR! Behrendorff has been taken to the cleaners in this over, 17 coming off it. Full in length around off, Dhawan leaves the crease as soon has the ball leaves Jason's hand and drills his drive down the ground for a boundary. India are off to a flying start!
16.27 IST: 9th T20I fifty for Dhawan, first against Australia! Gives the charge to the bowler and crisply drives it through covers. McDermott in the deep makes a tumbling stop as they cross for a couple of runs. Dhawan raises his bat to acknowledge the applause. A fine knock till now.
16.24 IST: SIX! Smashed! This one has gone all the way! A typical Dhawan shot! Welcomes the incoming length delivery, moves back inside the crease, makes room, picks up from his pads and hoists it over backward square leg for a biggie. Raises his bat as he thought he has reached his fifty but he's on 49 currently. Facepalm! IND 68/1 in 7.2 overs
16.22 IST: FOUR! Slapped away! Zampa is on the shorter side with his length, it's around off and Rahul goes deep inside the crease with his square cut. Doesn't middle it properly as it takes outer half of the bat and speeds right through the gap between short third man and backward point.IND 61/1 in 7 overs
16.17 IST: FOUR! Dhawan is looking in firm control of his game. Although this was too close for comfort. Tye delivers a shortish ball around off and takes it away with the angle. Dhawan delays his shot to run it fine down to third man but it's too close to the keeper. Carey flies to his left but fails to get to it as the ball races away to the fence. 50 comes up for India in good time!
16.16 IST: FOUR! What a shot! Dhawan is looking in the mood. Tye bowls it full and wide outside off, Shikhar gives the charge and pumps it over the bowler's head. Once again it nearly goes all the way. IND 48/1 in 5.4 overs
16.11 IST: FOUR! On the backfoot, Dhawan times the shot to short fine leg on short-pitched delivery. Jason digs in a short delivery around middle and leg, Dhawan uses the angle smartly and pulls it with authority. It flies from the middle of the bat, over short fine leg and nearly goes all the way. IND 41/1 in 5 overs
* KL Rahul comes into bat. 
16.08 IST: OUT! Behrendorff removes Rohit for 7. He never seemed to get going. India lose their first wicket and a vital one too. Massive breakthrough for Australia. Behrendorff comes up with the goods. He delivers a length ball in line of the stumps and Rohit walks forward and across to flick it over the leg side.
 IND 35/1 in 4.1 overs
16.07 IST: Aerial but safe! Not often you see Rohit attempting these shots early in his innings.
16.02 IST: FOUR! What A Shot! Sweet and cleanly hit on the short ball to deep square leg. Shikhar is on fire. Stanlake digs in a 137 kph short delivery on middle and it nicely sits up for Dhawan. He stays back to get on top of the bounce and pulls it handsomely in front of square leg for a boundary. IND 31/0 in 3.1 overs
16.00 IST: Beaten! Good length delivery outside off, Dhawan tries playing at it but is beaten for pace.
15.59 IST: FOUR! Straight down the ground by Dhawan. Plays it on the safe side when lofting that. IND 22/0 in 2.2 overs
15.57 IST: FOUR! Cut and cleanly hit by Dhawan. Width on offer outside off, Dhawan latches onto the room and spanks it past the backward point fielder for a cracking boundary. IND 17/0 in 1.4 overs
15.52 IST: FOUR! So Close! It doesn't matter how they come as long as they come! An inswinger from Behrendorff, around off and nipping back in, Dhawan without any footwork pushes at it tamely and gets an inside edge past the stumps to the fine leg fence. IND 11/0 in 0.4 overs
15.50 IST: FOUR! And there it is. Shikhar Dhawan is off the mark with a beautiful cover drive. Classy. Fractionally overpitched ball outside off, Dhawan leans forward and cracks his drive through the gap at covers for a boundary. IND 4/0 in 0.2 overs
15.50 IST: Rohit and Shikhar are out to bat. Behrendorff handed the new ball. Let's get started. 
15.40 IST: It was during the 17th over when the heavens opened up. The Aussies were heading for a score of probably around 180-190, possibly even 200 but the rain break halted all their momentum. They managed just 5 runs in 5 balls post the rain break and the REVISED DLS TARGET FOR INDIA IS 174 IN 17 OVERS.
15.39 IST:  1st T20I: Australia 158/4 (17 overs) vs India. Maxwell 46, Kuldeep 2/24 
15.37 IST: Full and outside off, pushed through mid on for a couple. AUSTRALIA FINISH ON 158/4!
15.36 IST: OUT! Bumrah removes Maxwell for 46. That was quick and a much needed wicket for India. A wicket for India straight after the break. A length ball, around middle, the Big Show tries to heave across the line but cannot get it past square leg. Straight to the man. Australia 154/4 in16.2 overs
15.34 IST: The batsmen are out, the fielders are out. 5 more deliveries.
15.30 IST: UPDATE- Play set to resume. It will be 17 overs per side, so Australia will face five more balls with the score 153/3
15.25 IST: That was close! 
"It's hit the Fox!"

Just wait for the camera shot at the end! #AUSvIND pic.twitter.com/yoouEWxc9u

— cricket.com.au (@cricketcomau) November 21, 2018
15.20 IST: Some social media banter going on here. 
Raining sixes? 😂😬 https://t.co/KSqslHMSaq

— Jimmy Neesham (@JimmyNeesh) November 21, 2018
Cos it's raining mate.

— Ashwin Ravichandran (@ashwinravi99) November 21, 2018
15.19 IST: Good news is that the rain has stopped. Bad is that the outfield seems to have taken a serious beating. Let's see when play can be resumed. A minimum of 30 minutes from the looks of it.
15.14 IST: While we wait for an official announcement from Gabba, take a look at Lynn's thunderous six! 
Upper decker! Chris Lynn launched a 108m six into the hands of Old Mate in the stands 🙌#AUSvIND @bet365_aus pic.twitter.com/vaxgQT6dAQ

— cricket.com.au (@cricketcomau) November 21, 2018
15.07 IST:
It's pouring here at The Gabba. We will get back with an update soon #TeamIndia #AUSvIND pic.twitter.com/nmNkWYJjX2

— BCCI (@BCCI) November 21, 2018
15.01 IST: Good News! The rain has stopped but there are puddles on the outfield. The umpires are out. Hopefully we should get some game time. 
14.50 IST: There have been a couple of easy chances dropped, which could very well cost the Indians who have been rather sloppy in the field, but only time will tell. Hopefully play resumes soon. Stay tuned for all the updates.
14.38 IST: PLAY HAS BEEN TEMPORARILY SUSPENDED DUE TO RAIN! So the forecast has finally come true. It's raining down and the players are asked to walk off the field. Australia 153/3 off 16.1 overs. 
14.36 IST:! DROPPED! That's the second catch dropped off Bumrah's bowling. Another simple catch. Short ball outside off, Stoinis cuts it aerially towards Khaleel at third man. He moves a little to his right, tries to gobble it up but it slips right through. Oh, dear! That's poor. A single is taken.
14.36 IST: Bumrah back into the attack.
14.35 IST: Another costly over from Krunal. 17 off it. Australia 152/3 off 16 overs
14.32 IST: SIX! This one is a high full toss on middle and Maxwell smashes it over deep square leg for a huge one. The ball was so high that it could've been called no ball as well but the leg umpire decides against it. Krunal just wants to get through his over as soon as possible and is bowling poor deliveries in the process
14.31 IST: SIX! Poor ball and Krunal has been punished. Short ball angling in, Stoinis with all his power heaves it flat over mid-wicket. Maximum!
14.30 IST: 15 overs gone. Kuldeep finishes with figures of 4/24 from 6 overs. Australia 135/3 off 15 overs
14.26 IST: Kuldeep back into the attack now.
14.25 IST: A very costly over from Krunal. Australia 127/3 off 14 overs
14.24 IST: SIX! Another one. Fuller in line of the stumps, Maxwell once again smokes it over the long on boundary for half a dozen. Still 2 balls left.
14.24 IST: SIX! He's really taking off now. Seems to have got his eye in. Straighter one on off, the Big Show stands firm inside the crease and slogs it over wide long on for a maximum.
14.23 IST: SIX! Huge one over cow corner! This one is short and darted in on off stump, Maxwell rocks back and smashes it for a maximum
14.22 IST: Australia have steadied the ship after two quick wickets. Australia 104/3 off 13 overs.
14.19 IST: FOUR! Short ball from Khaleel, Stoinis picks the length up, stays on the back foot and pulls it over mid-wicket. Big boundary out there, nobody in the deep either. The ball rolls across the fence.
14.19 IST: Australia survive a close run-out call
14.18 IST: Khaleel back on into the attack.
14.16 IST: Seven runs from the over including a successful review for the hosts. Australia 90/3 off 12 overs.
14.14 IST: Review taken. NOT OUT! Stoinis survives! Great review by Australia! The ball was short and pitched around middle, Stoinis goes for the reverse sweep and misses the ball to get hit on the thigh pad. The umpire thinks about it and raises his finger. Stoinis decides to go upstairs after consulting Maxwell. The Ball Tracker shows the ball to be going above the stumps.
14.10 IST: Another important over from Kuldeep. Australia 83/3 from 11 overs.
14.06 IST: OUT! GOT 'EM! Kuldeep strikes. A rather soft dismissal in the end, but a big wicket nonetheless. The in-form Lynn departs. The chinaman tosses it up on the stumps, Lynn comes forward and ends up chipping it back in the bowler's direction. The bowler moves to his left and takes a sharp catch tumbling down. Australia 75/3 off 10.1 overs
14.05 IST: The hosts have lost two wickets but Lynn is coasting along nicely. Australia 75/2 off 10 overs.
14.04  IST: SIX! Is this Lynn's night tonight? Gets his fourth maximum off the night. Smashed it over Krunal's head for a six.
14.03 IST: Krunal Pandya comes into the attack.
14.02 IST: A very good over from Kuldeep. A wicket and three runs. Australia 67/2 off 9 overs.
14.01 IST: Glenn Maxwell comes out to bat.
14.00 IST: OUT! This time is outside off and flighted. Finch comes down the ground and looks to hoick it out of the ground but only manages to get an outside edge that loops up to Khaleel at short third man. India will be really happy to see the back of the Aussie skipper as he was looking really good and set to make it count. The ball seemed like a wrong 'un and replays confirm it. Finch doesn't read it and perishes for 27. Australia 64/2 off 8.3 overs
13.58 IST: 21 runs off the over including three sixes as Lynn launched into Khaleel. Australia 63/1 off 8 overs
13.57 IST: SIX! Two in two! Lynn-sanity on the cards this evening? Could very well be. He looks to be in fine touch here. Full and right in the slow, Lynn throws his front leg out of the way and bangs it over long on.
13.55 IST: SIX! That's outta here! He's absolutely nailed that. What a hit. Shortish in length and into the body, Lynn backs away a touch and launches it high and handsome over square leg for a biggie.
BANG! Lynn goes large and Old Mate takes the grab in the stands!

Watch live via Kayo: https://t.co/HW09hVOINP #AUSvIND pic.twitter.com/GyOedGw9pB

— cricket.com.au (@cricketcomau) November 21, 2018
13.54 IST: SIX! That's a big hit. Well, was just over the rope, but the boundaries here are extremely big. Back of a length on the stumps, Lynn stays on the back foot and muscles the pull over mid-wicket for the first maximum of the game
13.53 IST: Good first over from Kuldeep. Only four runs from it. Australia 42/1 off 7 overs
13.52 IST: Lynn misses one and the ball hits him on the pad. India appeal but it gets turned down.
13.50 IST: First time we are going to see spin the match. Kuldeep Yadav into the attack.
13.49 IST: End of the power-play. Both teams should be happy with it. Australia 38/1 off 6 overs.
13.45 IST: FOUR! Bhuvneshwar bowls it down the leg and Finch obliges with a fine glance for a boundary past the short fine-leg fielder.
13.44 IST: Here's a look at the dropped catch. How costly will this prove?
A big moment early at the Gabba! #AUSvIND@GilletteAU #CloseMatters pic.twitter.com/lhVkqwU4Cj

— cricket.com.au (@cricketcomau) November 21, 2018
13.43 IST: A successful over for India. Australia 31/1 off 5 overs.
13.42 IST: FOUR! CRUNCHED! Off the mark straightaway, this one is full and outside off. Lynn powers it away through cover and to the boundary. Went like a rocket!
13.41 IST: Home boy Chris Lynn comes into the ground.
13.40 IST: OUT! Khaleel removes Short for 7. Khaleel strikes first ball! Excellent catch by Kuldeep as D'Arcy's short stay at the crease is over. A length ball, around off, Short looks to go over the top but hits it very high in the air. Gets plenty of height but not that much distance. In fact, he cannot get it past mid on. Kuldeep Yadav runs back a touch, keeps his eyes on the ball and takes a very good catch. Australia 24/1 (4.1 overs) 
13.39 IST: Khaleel Ahmed into the attack.
13.38 IST: A dropped catch and two boundaries off the over. 12 runs from the over. Australia 24/0 off 4 overs.
13.36 IST: FOUR! Back to back boundaries from Finch. An inside edge and it goes past Kuldeep for a boundary at short fine-leg.
13.35 IST: FOUR! Pitched up and Finch drives one for a boundary through mid-on.
13.34 IST: CHANCE AND DROPPED! Virat Kohli drops Aaron Finch at short-cover. Finch smashed one hard but it went right through Kohli's hands.
13.33 IST: First boundary off the match and it comes off Short's willow but India continue to keep a check on Australia's scoring. Australia 12/0 off 3 overs.
13.29 IST: Bumrah follows it up with another good over. Australia 5/0 off 2 overs
13.25 IST: Jasprit Bumrah to bowl from the other end.
13.23 IST: Just one run off the first over. Australia 1/0 off 1 over.
13.20 IST: Short and Finch to open for Australia while Bhuvneshwar has the new ball for India. Here we go!
13.17 IST: The players are ready to take the ground as we edge closer to start of a blockbuster tour Down Under.
13.15 IST: For India, Chahal would feel unlucky to be left out but with Hardik's absence, Krunal's presence in the XI becomes very important because of his all-round ability.
13.10 IST: Australia's exclusion of Nathan Coulter-Nile comes as a surprise. Coulter-Nile has been in great form and with the pitch suiting the spinners, he would have been a potent weapon for the Aussies.
12.55 IST: India XI: Rohit Sharma, Shikhar Dhawan, Virat Kohli (C), KL Rahul, Rishabh Pant (WK), Dinesh Karthik, Krunal Pandya, Bhuvneshwar Kumar, Kuldeep Yadav, Khaleel Ahmeed, Jasprit Bumrah
12.54 IST: Australia XI: D Arcy Short, Aaron Finch (C), Chris Lynn, Glenn Maxwell, Marcus Stoinis, Ben McDermott, Alex Carey (WK), Andrew Tye, Adam Zampa, Jason Behrendorff, Billy Stanlake
12.51 IST: India win toss, opt to bowl against Australia in Brisbane
12.50 IST: A huge roar from the crowd as this man comes out for the toss 
Fair to say the Indian fans went a little wild when this man strolled out #AUSvIND pic.twitter.com/Uo4KoWFVx0

— cricket.com.au (@cricketcomau) November 21, 2018
12.49 IST: Brett Lee says the quicks will have a say in the first game with the pitch having a grass cover and the conditions being overcast.
12.42 IST: Will new drills bring a change of fortune? The home side would like to believe so
New drill 🙈 #AUSvIND pic.twitter.com/wuDDSMlk1i

— cricket.com.au (@cricketcomau) November 21, 2018
12.40 IST: Australia still have quality despite Steve Smith, David Warner absence: Virat Kohli
Team India captain is aware that Australia are a depleted side without their key players in Steve Smith and David Warner but he insisted that they are not taking them lightly in their own backyard.
Speaking at the pre-match press conference ahead of the first T20I against Australia in Brisbane, Kohli said that the Aussies are still a very good side despite the absence of Smith and Warner. (Read Full Story Here)
12.30 IST: What has gone wrong with Australia after Steve Smith, David Warner suspensions
The Australian team is having a tough time on the field since the suspension of their key players in David Warner and Steve Smith. 
String of losses across all the formats have raised many questions on the credibility of the current Aussie squad. The fact that a team, which once dominated world cricket for almost a decade is having such a hard time, is beyond many people's imagination. (Read Full Story Here)
12.25 IST: The Australians are going through some stretching drills.
One hour til game time. The Aussies going through some final prep #AUSvIND pic.twitter.com/lzozKCE5OP

— cricket.com.au (@cricketcomau) November 21, 2018
12.20 IST: India will have to keep a check on Chris Lynn if they want to win the game. The Gabba is Lynn's home ground and he knows the pitch better than anyone.
That'd be local boy Chris Lynn winding up #AUSvIND pic.twitter.com/bzvhFpZFOd

— cricket.com.au (@cricketcomau) November 21, 2018
12.15 IST: Here is the pitch at the Gabba. A lot of grass cover on the deck and with cloudy conditions, expect the ball to move around in the air and off the pitch as well.
A tick under two hours til game time in the first T20I at the Gabba! Here's the deck #AUSvIND pic.twitter.com/AfllegpTX0

— cricket.com.au (@cricketcomau) November 21, 2018
12.10 IST: The Indian team is off to the Gabba for the showdown.
We are off to The Gabba 😎💪🏻 #TeamIndia #AUSvIND pic.twitter.com/RF9ReN2mx3

— BCCI (@BCCI) November 21, 2018
12.05 IST: Exclusive | Sourav Ganguly advises Indian batsmen to be wary of Brisbane's pace and bounce
Former Indian captain Sourav Ganguly wants the batsmen to be wary of the 'pace and bounce' at The Gabba, Brisbane as Australia hosts India in the 1st T20I. Ganguly, also has a few concerns as India have not played a practice match before the three-match T20I series. (Read Full Interview Here)
12.00 IST: Hello and welcome to our Live Blog of the first match of the three-match T20I series between India and Australia. Stay tuned as we bring you all the latest updates from Brisbane.
Brief Preview:
India will be eyeing for a perfect start to their two-month long Australia tour with the first T20 International contest between the two sides coming up at the Gabba on Wednesday.
India will enter the series after hammering the West Indies 3-0 at home while the hosts most recently suffered a 21-run loss at the hands of South Africa in a curtailed encounter, to succumb to their sixth loss in eight games. Australia were also whitewashed 0-3 in the UAE by top-ranked Pakistan.
The Virat Kohli-led Indian side arrived Down Under sitting second on the ICC's Twenty20 rankings, one ahead of Australia.
India also hold the psychological advantage of winning all the seven T20I series played since November 2017, and their last defeat in the shortest format came against the West Indies last year.
The last time India played a T20I series in Australia in January 2016, it was a Mahendra Singh Dhoni-led India that blanked the hosts 3-0. (Read Full Preview Here)