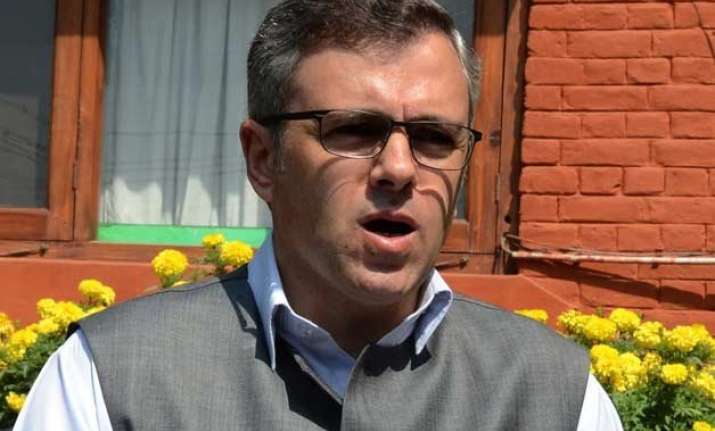 Jammu: Is Prime Minister Narendra Modi going to change or relax the resolution passed by Parliament in 1994 to facilitate talks with Hurriyat Conference or Pakistan for resolution of Kashmir, asked former Jammu and Kashmir Chief Minister Omar Abdullah.
Terming the talks mentioned in the common agenda of PDP-BJP alliance government as an attempt to "befool" people of the state, Omar wondered what kind of talks would take place when the Prime Minister recently reiterated in Parliament that "all resolutions passed by Parliament will be implemented in letter and spirit."
Parliament had passed a resolution on Jammu and Kashmir on February 22, 1994 which condemned Pakistan's support to terror groups and said the state has been, is and shall be an integral part of India and any attempt to separate it from the rest of the country will be resisted by all necessary means.
The resolution also demanded Pakistan must vacate the areas of the Indian state of Jammu and Kashmir, which they have occupied through aggression.
"What dialogue you will do?" he said.
Omar asked whether Hurriyat or Pakistan will be ready to come to the negotiation table in the backdrop of this resolution.
"What language are you using in Common Minimum Programme or is it only to play and befool people?" he said.
"Or tell us whether the Prime Minister will go and change the resolution of Parliament? Or relax it? Till some action is not taken on this aspect...your talks are meaningless," he said.
Under Omar's regime, separatists groups were sidelined and he himself had made attempts for talks between India and Pakistan.
"If this resolution will be basis for the talks which will be held with Pakistan and separatists—one can get nothing for years as we have been talking for last 6 decades," he said and asked "what have you (PDP-BJP) got in the CMP on this?".