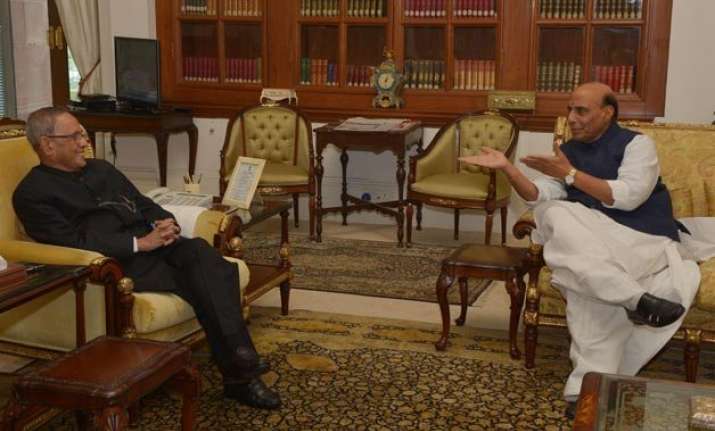 New Delhi: Union Home Minister Rajnath Singh on Thursday met President Pranab Mukherjee as speculation mounted over the continuance of Madhya Pradesh Governor Ram Naresh Yadav.
The meeting comes close on the heels of Supreme Court transferring all Vypam scam related cases to CBI.
Yadav was also issued notice by the Supreme Court during the day on a plea with regards to the forest guard recruitment scam.
Officials said the two leaders had a one-to-one meeting but gave no details of the 30-minute long meet. They also said that the meeting was pre-scheduled.
Earlier in the day, Home Secretary LC Goyal met Rajnath Singh after the apex court notice to the Madhya Pradesh Governor.
The Supreme Court had issued notice to the Central government, the Madhya Pradesh government and Yadav on a plea challenging the Jabalpur High Court order quashing an FIR against Yadav over his alleged involvement in Vyapam scam on the ground that he enjoyed immunity of the constitutional office he was occupying.
Yadav's son Shailesh Yadav, an accused in the Madhya Pradesh Professional Examination Board (or Vyapam) scam, was found dead under mysterious circumstances in March at his father's residence in Lucknow.
BJP not to defend Yadav
Bharatiya Janata Party leaders indicated on Thursday that the party would not defend Ram Naresh Yadav and he may have to resign.
"People occupying constitutional posts should introspect whether their actions are adding to the esteem of their office or not," BJP spokesperson Nalin Kohli said.
He said Yadav was appointed governor by the Congress-led United Progressive Alliance government and he was considered close to the Congress leadership.
The Madhya Pardesh scam is related to irregularities in admission and recruitment conducted by the Vyavsayik Pareeksha Mandal (Vyapam). More than 40 people associated with the scam have lost their lives, including a Delhi-based TV journalist who was covering it.