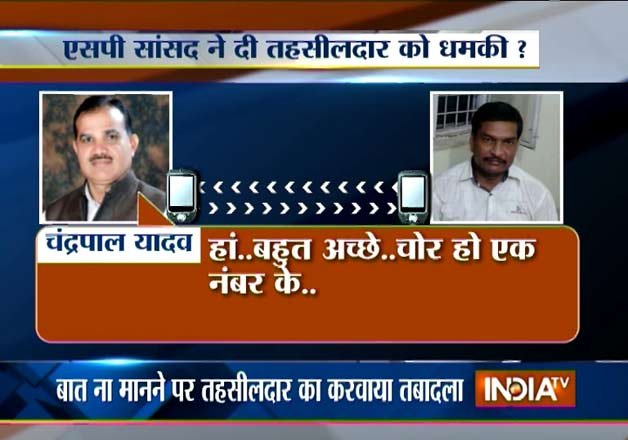 Jhansi: In a major embarrassment to Akhilesh Yadav government in Uttar Pradesh, an audio recording of his party's MP threatening a government official has surfaced.
Rajya Sabha MP and former member of legislative assembly (MLA) from Jhansi Chandrapal Singh Yadav could be heard calling the Tehsildar of Jhansi a thief.
Tehsildar Ghulab Singh had seized a tractor involved in illegal mining. Chandrapal called him to pressurize him in releasing the tractor and when the officer refused to do so, he threatened him with dire consequences.
When the MP asked him to release the tractor, Ghulab Singh refused and said, "Sir, forgive me, but these people are ruining the government's reputation. It is a shame for us; they are doing this in broad daylight."
The MP then asked, "Are You building the reputation?"
To which the officer replied, "Sir we are government servants. It is our duty to maintain the government's reputation."
The answer angered Chandrapal who said, "Yes very good. You are a thief of the top class. If you get money, you will release it (the tractor) immediately."
When he did not succeed in getting what he wanted, the MP played his final card and threatened him with dire consequences.
"I will tell you. It will only take me 24 hours to teach you a lesson for a lifetime. I will tell you, you will face dire consequences."
It seems the MP's confidence was not misplaced as the officer was transferred within 24 hours of the call. He has been sent to Kanpur Dehat from Jhansi.