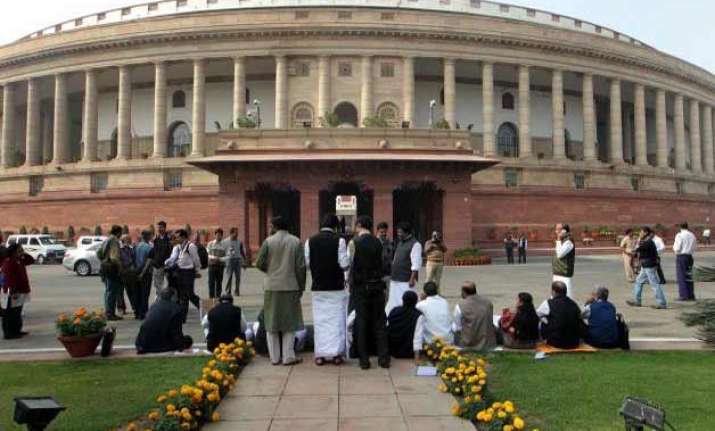 New Delhi:  With the deadline of the Parliamentary panel on land bill coming to a close, at least three opposition parties including Congress have decided to seek total withdrawal of NDA's contentious bill.
BJD and Trinamool Congress have already written to the Joint Committee of Parliament headed by BJP MP SS Ahluwalia in this regard while Congress will give its amendments on Monday when the panel meets.
"Our demand is to withdraw the bill completely. We are totally against it," a senior Trinamool Congress leader told PTI.
Sources said the letter seeking withdrawal of NDA's bill given by TMC also mentions that the state Assembly has already passed a resolution against the measure.
Last month, the West Bengal Assembly had unanimously passed a private resolution demanding withdrawal of the "draconian" land ordinance promulgated by the BJP-led NDA government at the Centre.
While the Trinamool Congress wants a total withdrawal of the amendments brought by the government, BJD among other things favours making the land losers stakeholders when land is acquired for profitable ventures.
The party wants that land owners should be given share in profit if the land is acquired for setting up industry and other commercial ventures, sources said.
In the amendments, the BJD has pitched for bringing back the consent and SIA provisions into the bill.
A senior Congress leader speaking on the condition of anonymity said the party will move its amendments on Monday.
"We are hopeful that when parties cast their vote on separate clauses of the bill, they will vote with us as there is a near unanimity among opposition parties that the bill should go," the leader said.
Congress has already written to the panel that the compensation in the law which is four times of market value in urban area and between two to four times in rural areas should be made uniform four times in all areas, a demand which the government may find difficult to accept.