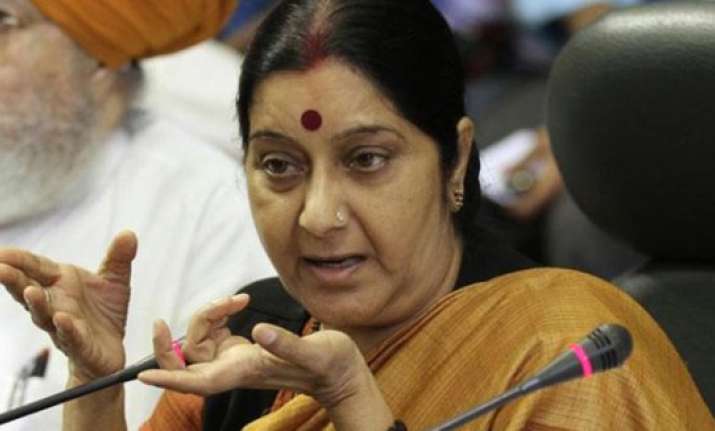 Jind (Har): Union Minister Sushma Swaraj yesterday promised if voted to power in Haryana, BJP will provide Rs 2,000 pension to senior citizens and widows, stipend for unemployed youths and security guards in every bus for women safety.
She was campaigning in the Safidon constituency in the Jind district here today for the BJP candidate and her sister Vandana Sharma.
Seeking votes on the plank of development, she assured the people that BJP, if elected, will give a clean and good governance and work for the welfare of the poor.  Reaching out the people of the region, she said that its an important election for the BJP.
"Earlier the BJP use to fight polls in Haryana in alliance with other political outfits, but now the party is contesting the elections on its own," she said, seeking peoples' mandate for development of Haryana.  Swaraj said that in the Lok Sabha polls, BJP's mission was 272 plus seats and its 50 plus seats in Haryana elections now.
"We have made our mission possible in Lok Sabha by winning 282 seats of our own and will make it in Assembly elections in Haryana too," she said.  Haryana has 90 Assembly seats.
"No section of the society will be overlooked by the BJP," she said.
Swaraj said that the if the BJP forms its government in the state the old-age pension will be hiked from Rs 1,000 to Rs 2,000, the highest ever in the country.  Youths will be trained in handicraft to make them self employed, she said, adding that, unemployment allowance of Rs 6,000 will be given to 12th pass and Rs 9,000 to BA pass unemployed youths in the state.
She criticized the present and earlier state governments for allegedly ignoring the welfare of the state.  
She said BJP intends to give better facilities to villages, bring transparency in administration, root out corruption and end the menace of female foeticide.  
She also promised the four laning of the national and the state highways in the state.
Haryana has a total of 90 Assembly seats and BJP is for the first time contesting polls alone.
Its alliances with INLD and later with Haryana Janhit Congress have fallen apart.  In the Lok Sabha polls this year, Congress won only one of the 10 seats while BJP won seven out of the eight it contested. INLD won two seats.