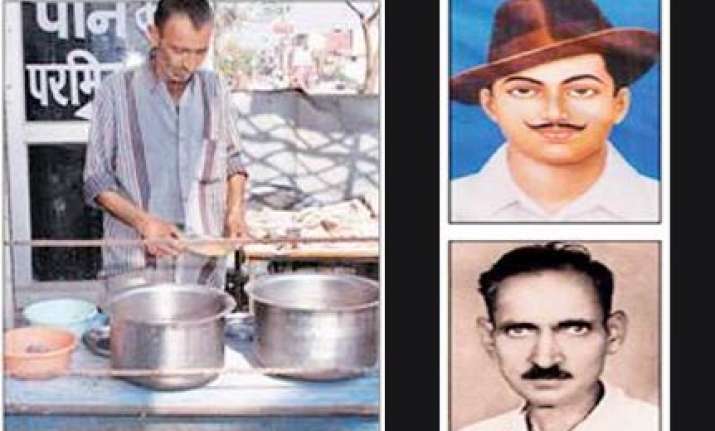 Vinay Kumar's father fought against the British for the country's freedom. Comrade Kranti Kumar's 50- year- old son fights daily — against crushing poverty for survival.
His father Kranti was a close friend and comrade of Shaheed Bhagat Singh. He played a leading role in the martyr's defence when Singh and his comrades were tried in 1929. Kranti also finds mention in a letter written by Singh. But the illustrious father's son has to scrub utensils at a Panipat country liquor shop- cum- dhaba to earn Rs 40 per day for his keep, ays a shocking report in Mail Today.
Kranti was set ablaze with two of his friends in 1966 during the communal riots in Panipat. After his father was killed, many top leaders of the country — including the then Prime Minister Indira Gandhi — promised help to the family. But no concrete steps were taken.
" I have no shelter. My mother Krishna Devi died of cancer because we didn't have money for her treatment," Vinay said. He had taken up a job after completing a diploma in welding from a Industrial Training Institute. " Work adversely affected my eye- sight and I had to leave the job. Since then, I have no permanent job," he added.
Kranti Kumar was born in Satghara in Montogomery district of Punjab — now in Pakistan. He was an active member the Naujwan Bharat Sabha and was arrested and tortured in Royal Fort Lahore while he was sentenced to life imprisonment in the third Lahore Conspiracy Case. He was later acquitted by the high court. Historians say he was re- arrested in 1942 for taking part in the Quit India Movement. " No one gave me job," Vinay said. But he isn't asking for favours.
" I pulled a rickshaw and lived on railway platforms and parks. The police often pushed me out of public places. I couldn't tell them that my father was a freedom fighter," he said. He had registered himself on the employment exchange. " But I couldn't get a job because I didn't have the money to bribe people or a godfather to recommend me." Vinay did not get married since he couldn't afford to feed a family.
Vinay's nephew Pramod Sharma said his uncle does not beg. " He would rather work at a dhaba to earn his keep than burden us," he said. Professor Jagmohan Singh, Bhagat Singh's nephew, said the nation had not acknowledged the sacrifice and contribution of Kranti. " It is painful that Kranti Kumar's son and other family members are living in penury," he said. Jagmohan, who has edited many books on his uncle, said Kranti finds a reference in Bhagat Singh's letter to a magistrate during the Lahore conspiracy case.
" Comrade Kranti Kumar, who was doing very useful work for our defence committee and was also providing us with things of daily use, has been imprisoned on a fabricated charge. It has come to our knowledge that the fabricated charge of bringing bullets in the sauce could not be proved against him, under Section 124 A in Gurdaspur which is distant from Lahore," Bhagat Singh wrote in the letter, Jagmohan said. The case had been lodged against Kranti in the border town of Gurdaspur in Punjab.
While the nation may have forgotten one of its heroes and his family, the Shaheed- e- Azam Bhagat Singh Museum at Punjab's Khatkar Kalan, the martyr's native village, has a portrait of Kranti on its walls.