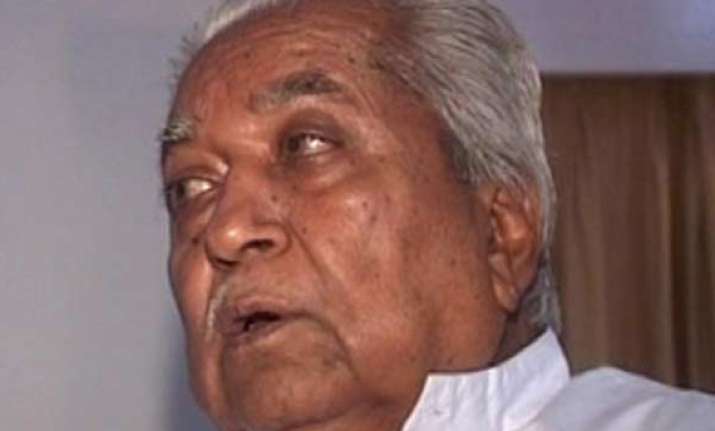 Kankodakoi (Guj), Jun 10: Taking a dig at Gujarat Chief Minister Narendra Modi, veteran BJP leader Keshubhai Patel today said that people of the state should beware of "braggarts", while hailing ousted BJP leader Sanjay Joshi for his "dedication" towards the party.
Addressing 'Adivasi Adhikar Jagran' rally atKankodakoi village in Panchmahals district, organised by a social organisation affiliated to Maha-Gujarat Janta Party of former BJP leader Gordhan Zadafia, Patel said that "one should beware of Lanpot Sankh". (a Gujarati proverb meaning person who gives false promises or brags).
Without taking Modi's name, Patel urged 82 lakh-strong tribal population in the state to bring around a change in Gujarat in the next assembly elections due later this year.  
In a bid to further whip up anti-Modi sentiment close on the heels of ouster of his bete noire Sanjay Joshi from the party, Patel said Joshi did not deserve such a treatment.  
"Joshi who is committed and dedicated party worker should not have been treated in such humiliating manner," he said.
A former RSS pracharak and BJP general secretary Joshi resigned from the party on Friday.
"Nobody can lock my mouth and stop me from expressing my views under the guise of party discipline as enough is enough and I will not keep my mouth shut," said Patel who has been vocal since last few months against Modi.  
Patel had said that people of Gujarat and especially his community (Patels) were living under fear in Modi's rule.  
Ever since his unceremonious removal from power and Modi replacing him in 2001, it is for the first time that Patel came out openly against Modi in the run up to the 2012 state elections.
Patel has been directly attacking Modi over his style of functioning and has even asked the members of tribal community to shed fear and stand up for their due rights.