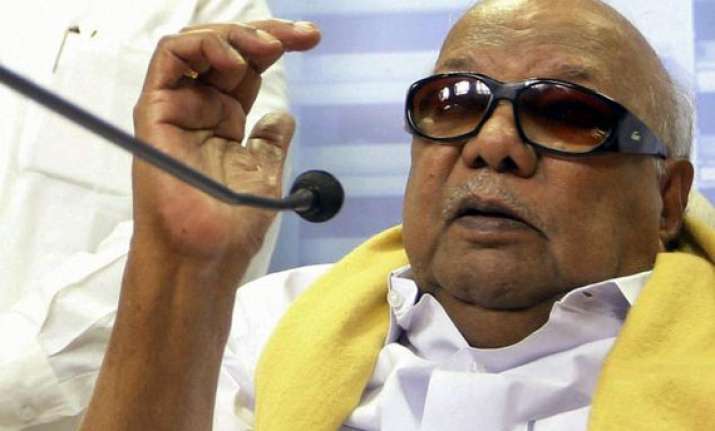 Coimbatore: DMK patriarch M Karunanidhi yesterday said the he was ready to sacrifice his life to protect Tamil, Tamil culture and Tamil race.
Becoming emotional on the appreciation give by earlier speakers on his enthusiasm even at the age of 90, Karunanidhi, addressing an election rally here, however, said "this could be the last election for me."     
When the massive crowd said "appadi sollathe" (don't say like that), Karunanidhi said "if you take the oath, I will live not only 10 to 15 years more, but another 50 years, to protect the Tamil race and Tamils, amidst thunderous applause and cheers."     
The crowd burst into laughter when Karunanidhi said he was "belittled and ashamed when the speakers revealed the age when my wife was around and sitting by my side".    
Karunanidhi said that he was Chief Minister for five times and "the voters had given me retirement" as they do not want to see him sixth time in the last assembly elections.    
He read out the list of properties in the name of Tamil Nadu Chief Minister J Jayalalithaa, valued at over Rs 5,000 crore as submitted in the Special Court hearing her disproportionate wealth cases in Bangalore.     
Asking the people not to vote for AIADMK candidates in the April 24 Lok Sabha polls, he said "if you neglect my words, you would bear the brunt and there would be no land for the next generation.